Maharaja Chhatrasal Bundela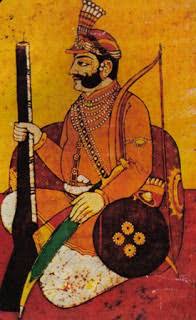 Maharaja Chhatrasal (May 4th, 1649 – Dec. 20th, 1731 AD) was an early modern Indian warrior king from the Bundela Rajput clan who fought against the tyrannical Mughal Empire for 60 years of his life and established his own kingdom called Bundelkhand. Orphaned at age 12.5, living the life of a homeless, he had inherited both the enemy and the bravery from his warrior parents. From age 22 and until his last breath at age 82, he fought 252 wars, including 52 major ones, won them all, eventually bringing down the Mughal empire in India. 
Despite being a lifetime freedom warrior, he was a greatly respected leader, a protector of art, culture, and religion, and an inspirational poet. Chhatrasal is the only known Hindu Maharaja who demonstrated love for the entire humanity through his actions. He proved himself to be a unique humanitarian Hindu Maharaja of medieval India.
He was blessed, guided, and inspired by his spiritual master Mahamati Prannath and played a critical leadership role in promoting the spread of Nijanand (Parnami) philosophy in many regions of India, Bhutan, and Nepal. He is from among the many Indian heroic leaders who opposed injustice, atrocities, and immorality from time to time and inspired people to fight for justice.
Chhatrasal lost both of his parents Champatrai (father) and Laad Kunvari (mother, a.k.a. Sarandha) at the age of 12.5 at the hands of Mughals, he was homeless, without much support from many near and dear ones, and without necessary resources. Despite all the adversities, he kept fighting and winning for the well-being of his people. Chhatrasal fought 52 major battles against the Mughal emperor Aurangzeb from the age of 22 until his last breath at the age of 82 years.
Meaning: "If Chhatrasal was not there, all people in Bundelkhand and other parts of India would have to undergo forcible conversion to Islam or Islamic way of life." 
Chhatrasal was also a religious leader who lived and promoted the spread of Nijanand (Parnami) philosophy inspired by Mahamati Prannath, his spiritual master. The world knows a lot about Chhatrasal with sword but is less familiar with the amazingness of his pen. But, it goes without attention that today, Chhatrasal is the icon of bravery, reverence, and selfless service for millions of people worldwide. In Nijanand's (Parnami) faith community worldwide, he is revered as an incarnation (avatar) of "Sakundal Sakhi", who was bestowed with Supreme Absolute Godhead's divine powers. He is remembered and praised daily for his public services and spirituality. With the discovery of emerald diamonds after Mahamati Prannath's blessings, Chhatrasal protected not only Bundelkhand but also the Hindu society suffering at the hands of the Mughals.
Maharaja Chhatrasal is the only king of the history of the world, not only of India, who, even after sitting in power, writes poetry to boost public awareness and morale of the Hindu kings to uproot the Mughal invaders and to increase the honor of the nation. In Bundelkhand, he is well-known as the "master of sword and pen." (Kalam aur Talwaar ke Dhanee) He appreciated the poetical services of 82 poets in his state.  
Today, in Bundelkhand and also among more than three million Nijanand (Parnami) faith practitioners, Chhatrasal is even regarded as a super divine being and is invoked with a morning prayer
Meaning: "O greatly powerful Chhatrsal, please do good of all."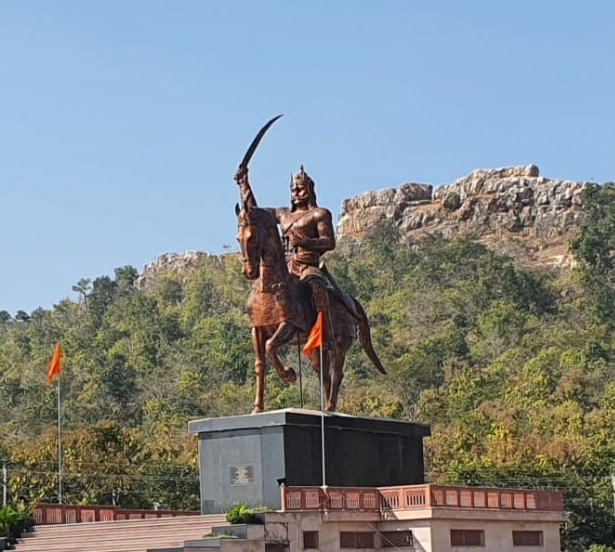 Bundelkhand and Bundela Dynasty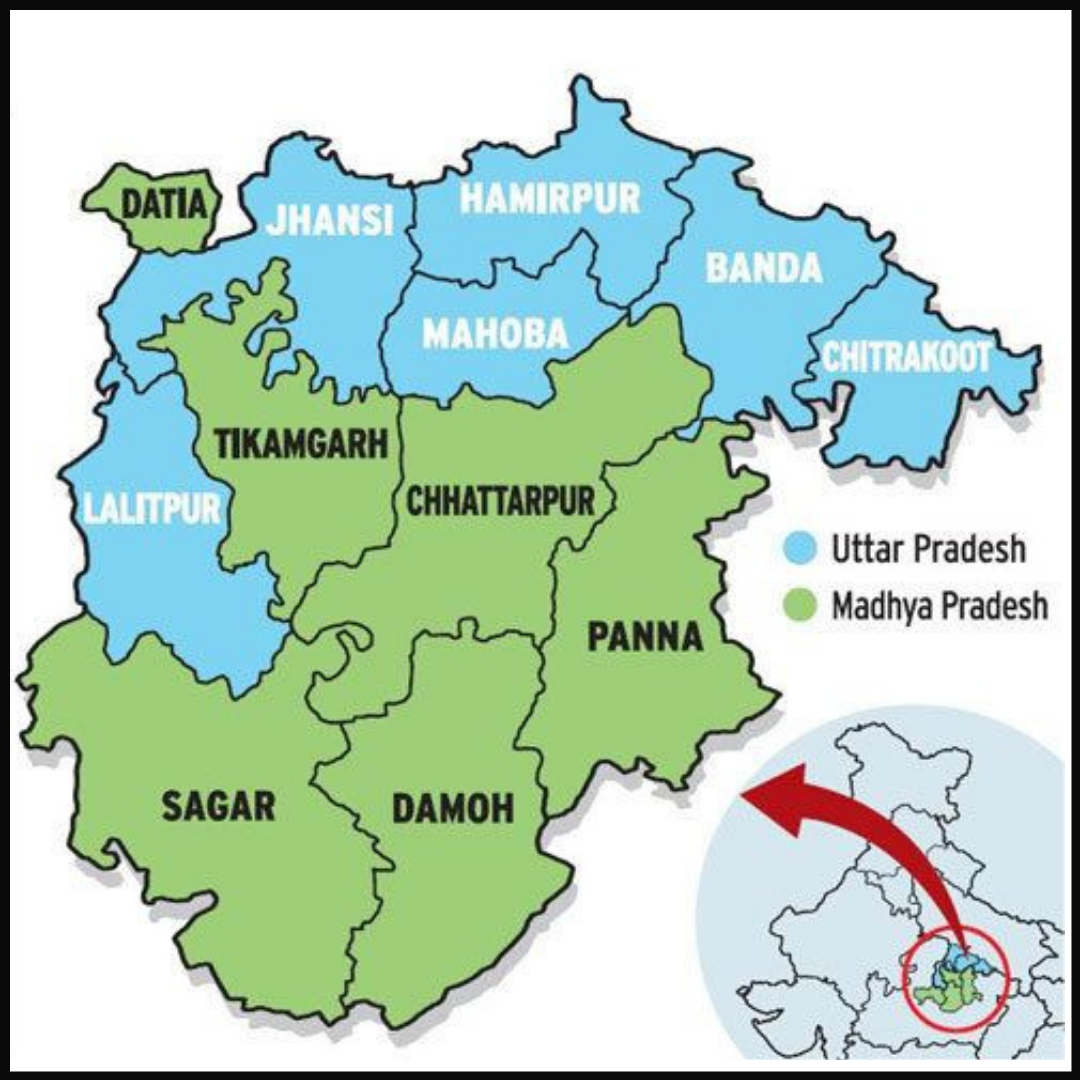 The Bundela dynasty emerged from the 11th century Gahirvanshi Kshatriya Rajput king Pancham, who laid the foundation of the Bundela kingdom. Being ruled by the Bundela kings, this land came to be called by the name 'Bundelkhand'. Maharaja Chhatrasal was born in the tradition of these Bundeli kings and his reign was called "the Golden Age" in Bundelkhand. He freed his motherland by ending the Mughal tyrannical rule and established a free Bundelkhand. According to famous historian Dr. Mahendra Pratap Singh, Aurangzeb had lost more area of Bundelkhand to Chhatrasal than the area he could expand his empire in the south.
Bundelkhand is a region of north-central India in the 16th-17th century, now mostly part of the state of Madhya Pradesh and the remaining part is in the state of Uttar Pradesh. On the map of India, Bundelkhand is a vast area surrounded by rivers like Yamuna, Betwa, Chambal, Tons, Ken, Kilkila, Dhasan, Sone Kunwari, Pahuj, and Narmada.
It included cities such as Jhansi, Panna, Nagaud, Chattarpur, Damoh, Sagar, Datia, Chanderi, Lalitpur, Banda, Hamirpur, Jalaun, Mahoba, Chitrakoot, Tikamgarh, Rewa, Jabalpur, Vidisha, Gwalior, Bhind, and parts of Etawah. Due to being situated between two states of U.P. and MP, in the present time, this land is not recognized internationally and globally. But, in the past, Bundelkhand was famous as a strong independent state.
Generally, Bundelkhand can be easily heartened through the following proverbs:
Considering modern Chhatarpur as the center, the entire coastal region of river Jamuna spread in the north-south corner from the Kanaar canton of Kalpi Government located at the mouth of the rivers Sindh and Chambal to Mau of Banda district, which is the northern area of ​​Gauhra and Kutra cantons (30-32 miles from Allahabad).
Similarly, the river Narmada in the south of Chhatarpur was used to determine the southern boundary of his state power. Chhatrasal first concentrated his activities in this southern region and took it under his control. His army first conquered the fortress of Gadha-Kota, situated between Sagar and Damoh, by attacking and collecting taxes* the royal territories of Dhamouni (modern Sagar district) by entering from Sironj, Sendasa, Dhamouni, and Gwalior side, and recovering the Chauth (tax) from the governors. While staying in the fortifications of this fort, he defeated thirty thousand cavalry soldiers of the governors of Malwa and the Bundela kings – both led by Rohilla Khan.
Apart from the king of Orchha and the Ravas of Datia, and except the bases of some Bundela grantees (Jagirdars), Chhatrasal occupied in the west, the whole of the imperial territory extending westward up to Erach, Bhaander, and Konch on the Pahuj and Singh rivers. Similarly, in the east from Badhelkhand, Rewa to the southern region of Mirzapur, the entire state came under the control of Chhatrasal. Being the landmark of the state border of the Bundelas, this bridge is still called Bundela Nalla (*According to historian Kunj Bihari Sinh, the word 'looting' as used by some historians, should not be interpreted as literal 'looting', but simply as 'tax collection.')
Maharaja Chhatrasal is synonymous with Bundelkhand, he is the leader of the culture and prosperity of Bundelkhand. Many villages, towns, cities, and places are still glorifying the great character of Maharaja Chhatrasal within and even outside the Bundelkhand. The Bundeli people still remember this proverb very well:
To cite the importance of Maharaja Chhatrasal's contributions in irrigating the entire Bundelkhand by the construction of wells, ponds, and lakes, the following proverb is also still heard in Bundelkhand: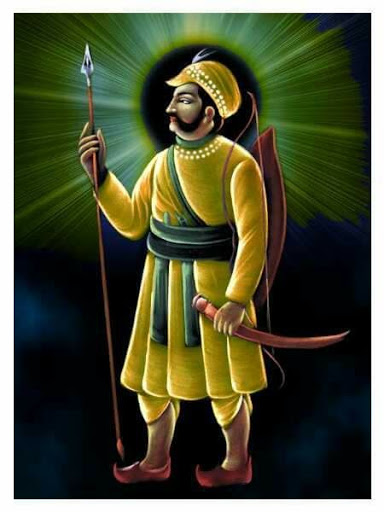 The way Shri Ram and Lakshman's glory is sung in Awadh, Shri Krishna and Balaram's glory is sung in Vraj, similarly, in Bundelkhand, the glory is sung of Shri Prannath (Nish-kalank Budhdh) and Chhatrasal. Diamond mines and stone deposits are said to be Mahamati Prannath's blessings to Chhatrasal's kingdom.
(Sources: Yugpravartak Maharaja Chhatrasal: Chapter 1, Bundelkhand Itihas)
Early Developmental Period
Chhatrasal was born in Morpariya, M. P. (East of Jhansi, about 4 miles SW of Nuna village and NW of Lidhaurakhas of Tikamgarh district of M.P. on May 21st, 1649 AD (at dusk time, on Jyeshtha Sudi Tritiya, Friday, VS 1706). At that time, his father Champat Rai and mother Laadkunvari (a.k.a. Warrior queen Sarandha, the name by which she was called at her parent's home) were living a life of a rebel in the forests of Orchha (now in the state of M.P.), fighting against the tyranny of the Mughals. Chhatrasal was his fourth child.  
It is said that at his birth time, a mongoose came by to greet and bless the child Chhatrasal with five gold coins, signifying the gift of divine powers. And, on the other side, the Mughal army also attacked the couple as the baby was just delivered in the jungle. Recognizing the existential threat to all of them, Champatarai's sight fell upon the valley between two hills, determined to do something unimaginable. Upon reaching the end of the hill, he took the newborn Chhatrasal in his arms, offered the shoulder to Queen Sarandha, and jumped off the hill by holding her arm.
What a miraculous happening! As if divine power had entered the 62 years old Champatarai's being, as soon as he kicked himself in the air for an impossible jump, he almost appeared flying in the air eventually landing safely onto the other side of the hill where no enemy could reach. The enemies following them were astonished to see this daring jump. This scene is depicted in Chhatraprakash in poetical form. It says: "Maharaja Champatarai had flown from the hill like a peacock, that is why this historical hill of Kakarkanchanhar got its name as Mor-Pahari."
Rani Sarandha brought up Child Chhatrasal with all her love. All the rites of baby Chhatrasal were done as per total tradition. According to the customs, once Chhatrasal's parents invited a renowned astrologer to find out more about his tendencies. Placing a sword and an ink pen in front of him, the astrologer said, "Whichever the baby will pick up first, that will determine whether he will be a warrior or a poet-writer." The astrologer then asked the baby Chhatrasal to pick one of the two. As all present watch and wait to see his action curiously, Chhatrasal surprised everyone by picking up both the sword and the pen together at the same time, implying "I will fight with the sword the enemy and write too!" His future life will prove that to be true. We will see that he will protect his people by his valor and also enlighten his community with wisdom and spirituality.
Before going to war, mother Sarandha used to touch the sword to the little boy, and then wear the sword. Often she had to tie the baby on her back and carry him to the battlefield. Once Champatrai and Sarandha were on the battlefield with seven months old Chhatrasl and Mughals were following them. At one point, when it was not possible to go back on the same path they came from, Sarandha realized that the baby Chhatrasal had fallen off from her baby-carrying pouch. Later, after the risk of Mughals was avoided, they traced back and found him safe playing in a rivulet. Another version of the story is that for safety, his parents had temporarily hidden the baby Chhatrasal to protect him from the Mughals. Upon their return, Chhatrasal was found well and safe, playing under a large rock and being guarded by a cobra. As mother rushed to pick him, the cobra had disappeared.
At age four(1653 AD), Chhatrsal and mother Sarandha had to be shifted to her parent's home for his safe raising away from the battleground. Here, Shah Jahan had launched a campaign to capture Champatarai. Queen Sarandha stayed here for some time and arranged for the proper education of little Chhatrasal and then left him with her maternal grandmother as she had to leave to help Champatrai in the battleground. By age ten, Chhatrasal had acquired proficiency in wielding many weapons.
In the year 1717 (1606 AD), during a big ritual of worshiping the Bundela clan's family deity (Kul Devi) at the temple of Vindhyavasini Devi, a Mughal commander came to attack the idols. Chhatrasal, who was in a nearby garden for flowers with his friends. When the commander asked them to show direction to the temple, they didn't reply knowing their malicious intention. The Mughal came down from his horse and slapped a child so he may speak up. Upon seeing this misbehavior, Chhatrasal swiftly took out his sword and pierced into the Mughal's stomach and next, he sliced his head separating from the trunk. As other Mughal soldiers fled away, Chhatrasal, holding a basket of flowers in one hand and the severed head of the Mughal leader in the other, walked towards the temple. The arriving Bundeli soldiers and everyone else was stunned seeing the little 10-year-old Chhatrasal in a warrior's role. The public and both the parents were very happy to learn about the masculinity of Chhatrasal.
Then, Chhatrasal's parents shared their life experiences with him and impregnated his consciousness with the future mission and goals. They made him aware of the fact that they were wanted by the emperor Aurangzeb, alive and dead. Even my companions may prove deadly, as they may give in and choose to fulfill Aurangzeb's wishes. My child! I believe in you, and the future of Bundelkhand depends on you. Seeing you ready to handle the Mughals, we are confident that you will not let the spark of self-rule of Bundelkhand be extinguished.
In his childhood, the little Chhatrasal kept learning the art of wielding weapons or meditating upon God while sitting in the temple, mainly in the Chetan Gopal temple. Here he played with his childhood friends with bows and arrows and also worshiped God together.
According to public lore and as noted in historical Chhatraprakash Granth, little Chhatrasal used to get into a meditative state in front of the idols of Lord Rama, Lakshmana, and Sita. One day, he kept urging lovingly lord Rama to play with him with bow and arrow. Despite his repeated requests, when he heard no response, he had warned his lord that if his request is not granted, he will have no other option but to strike the arrow with his bow on his Lord's chest. It is said that Lord Rama appeared along with Lakshmana and Sita. Next, the form of Lakshmana entered into Chhatrasal's being and he played with Lord Rama as Sita watched it. Eventually, the temple priest had to break his meditative pose. With this regular practice, his love for God had got so strengthened that the idols too will start dancing along with him. People are said to have listened to the sounds of dance music in the temple and children used to talk about it with some sense of fear. This is just a glimpse of Chhatrasal's religious attitude in his childhood.
At the age of twelve and a half years, in 1661 AD, little Chhatrasal lost his parents Champatrai and Saranda. Their death was the result of a conspiracy hatched by Sujan Singh, a well-wisher of Orchha, and Rao Shubhakaran of Datia – all under the instigation of Orchha queen Hira Devi. They helped create a condition favorable to the Mughal soldiers who then trapped and attacked Sarandha and the very ill Champatrai near Moran Gaon. The brave queen Sarandha killed many soldiers and herself becoming a martyr along with her husband. Champatrai's relatives, including Lokpal Sinh Dhandhera of Sahra, betrayed them, cut heads from their dead bodies, and went to Delhi to present the gift of their heads to emperor Aurangzeb in hopes to earn a reward.
Chhatrasal arrived from Sahra to Morangaon the next day, (on Kartik Sudi Dwadashi, V.S. 1718, cremated his parents, and then went to Mahewa to see his family members. He then went to see his elder brother Angadrai in Delgado. All three brothers came back to Maheva and performed all the other rites of the parents.
Due to his father's rebellion against Aurangzeb, the Rajas and Rao of Datia, Orchha, and Chanderi were strong enemies of Chhatrasal. Dhandhera clan people of Sahra were Chhatrasal's relatives and also bound by ancestral debt. Yet, all of them were the cause for Chhatrasal's sufferings. Sister Maankunvari (husband Gyaansinh) closed her doors for Chhatrasal due to fear of Aurangzeb's royal court. When orphan Chhatrasal approached his father's trusted family priest Bhanu Pandit, even he reprimanded him and denied any support or shelter.
In such a critical time of crisis, some such people entered his life, who had infused nectar drops in his teenage life and supported him on time. These people had played an active role in the establishment of Swarajya by giving support and affection to Chhatrasal and paved the way for the history of Bundelkhand's independence.
Bardiya potter's girl Suhasini: After being abused by his loved ones, Chhatrasal laid down under a tree near the village of Nunha, helpless. He was restless with fever. At this time the earth was like his mother and the sky was like his father. Parent's memories and their words of wisdom were appearing and disappearing from the screen of his consciousness. At such a critical moment, the Badria potter's daughter Suhasini from Nuna village recognized and sheltered him until he got well and offered him moral support. She did all this for Chhatrasal with great reverence and respect. She proved herself to be more than a sibling for Chhatrasal. History is silent on her name.
Lallu Gadariya (shepherd) of this village planted in Chhatrasal's psyche the seed of self-confidence of his inherent greatness. He was Champatrai's old supporter. Legend has it that when Chhatrasal was sleeping under a tree, a cobra was guarding him and preventing the sunlight from directly falling on his face by spreading his hood. Lallu Gadaria had later told Chhatrasal that he had seen those auspicious moments when he was sleeping under the tree. 
Mahabali Patel of Dailwara

 was Champatarai's most trusted and intimate companion. He was not his blood relative. Before his death, Champatarai had entrusted him with the responsibility of taking care of his other queens and son Gopal Rai. While Champatarai was wandering the jungle to escape the royal wrath, mother Sarandha had left a colt and some jewels as a heritage for Chhatrasal with Mahabali and had told him to return it to Chhatrasal in times of need and help him wherever possible. Fulfilling his promise, Mahabali handed over to Chhatrasal everything his mother had given, inspired him to build his fight against Mughals with courage. He even offered him all his assets for the great cause if necessary. As wished by mother Sarandha, Mahabali was instrumental in finalizing Chhatrasal's marriage with Devkunvari, the daughter of Hardev Singh Panwar of Berchha town (63 Km East Ujjain, MP).

Bhanu Bhatt of Dailwara

 had raised adolescent Chhatrasal from nostalgia in such a way as to save a drowning person. In addition to Mahambali, he proved to be his right hand and truly a bodyguard. Both of them made a great leader out of an orphan child Chhatrasal.
Chhatrasal spent about 3.5 years in the warmth of these foundational supporters.
(Reference: Courtesy, Yugpravartak Maharaja Chhatrasal page#s 67-74)
The Nine Years period of Early Struggle
Chhatrasal's nine years of adolescence were spent in great struggle due to the separation of parents. He made this struggle period meaningful with self-power by thinking deeply about freedom for Bundelkhand. To fulfill the last instructions given by the parents, during this period, he planted those seeds with great understanding. The seeds put inside the earth remain invisible from the eyes of the public, but on the expansion of the seedling, the form of the seed appears in the outer world. This struggle is it's just another name. The Flame of Rebel against the Mughal ruler and those who conspired to kill his parents have started growing bigger and bigger in the psyche of sixteen years old Chhatrasal. On this side, as per his parent's wish and convinced by his brothers and Mahabali Patel, Chhatrasal married Devkunvari in 1665 AD on Vaishakh Shukla Tritiya.
About 1.5 years had passed since his marriage to Devkunvari. Chhatrasal decided to learn first-hand the customs, strategies, strengths, and weaknesses of the Mughal army. So, in 1665AD-1666 A.D., brave Chhatrasal decided to join the Mughal Army led by Mirza Raja Jai ​​Singh. He fought for his obvious enemy and even brought them victory in the battle of Bijapur. Here, he understood the customs and strategies of the Mughal army and also observed the unfair treatment of the army members. Seeing Chhatrasal's valor, Jai Singh appointed him to lead. Chhatrasal helped Jai Sinh and Bahadur Khan to conquer the Devgarh Fort, got seriously injured, and was not recognized for his role. This opened up as an opportunity to find the great company of Chhatrapati Shivaji. Chhatrasal Meets Chhatrapati Shivaji who boosted his spirit.
From his experience, he learned and observed first-hand and also showed to his army men, the unfair treatment of the Hindu army members by the Mughals.  After having two years (1665-1667 A.D.)] of extensive experience Chhatrasal returned to Bundelkhand with great hope. During this campaign period in Bundelkhand, in 1670A.D., Aurangzeb dispatched Fidai Khan to launch an attack to destroy the temples of Orchha. At the request of the then 77-year-old Maharaja Sujan Singh of Orchha, Chhatrasal of Conquered Dhumghat by defeating Fidai Khan and protecting the temples of Orchha. For the next more than two years (1668-1670 AD), to connect his experience with the soil of Bundelkhand, he did a comprehensive survey of the hills, valleys, and forests and studied the Mughal bases established on his motherland. With many ups and downs, and trying out unconventional action plans, Bundelkhand itself became Chhatarsal's school.   
The flame of rebellion started burning within Chhatrasal's heart which was already saddened by his parents' death. He was desperate to respond to his parent's killers as well as the Mughal ruler. He was very disturbed by the fact that his brothers and sisters were not willing to fight for justice and a great cause. While everyone was stuck in the fearsome past, the flame burning within the sixteen years old Chhatrasal's heart was growing bigger and bigger.
Sixteen-year-old Chhatrasal realized that the huge Mughal army can only be defeated by building a strong and sizable army, and by gaining knowledge of war operations and strategies. So, to learn first-hand the customs, strategies, strengths, and weaknesses of the Mughal army, in 1665AD-1666AD, brave Chhatrasal even didn't hesitate to Join The Mughal Army led by Mirza Raja Jai ​​Singh.
This enlisting shook his conscience as at times it felt like betraying his parents and the Bundelkhand. On the other hand, he realized that only iron can cut iron, and the strongest rope breaks only from where it is weak. So, he made it his goal to learn first-hand the customs, strategies, strengths, and weaknesses of his enemy from within.
This was the call of the time to ultimately demolish the Mughal power. His conscience settled by thinking that even Lord Rama had sent his brother Lakshmana to his arch-enemy Ravan to learn political science.
So, despite his goals being exactly opposite to Jai Singh's, Chhatrasal, his cousin Baldiwan and his brother Angadrai approached Jai Singh as he was preparing for a campaign in the south. Jai ​​Singh gladly welcomed and included in his army, brave Chhatrasal's team. This was the first success of the rebellious flame of his conscience.
Jai Singh went to South India and besieged the Purandhar Fort of Maharashtra in a months-long war with Maratha Chhatrapati Shivaji. Using his diplomatic expertise, Shivaji vacated this fort and made a treaty with Aurangzeb. Chhatrasal got an opportunity to learn the best winning strategies of the Mughals as well as of Shivaji's Maratha army.
According to the treaty, Shivaji had to attack the princely state of Bijapur with the Mughal army. Chhatrasal got an opportunity to learn Shivaji's strategy directly, but there was no opportunity to fight together for a common enemy – the Mughals. Shivaji and Jai Singh lived together for four to five months. But being worried about Shivaji's growing power, Aurangzeb had fraudulently summoned Shivaji to Delhi and imprisoned him in Agra.
Chhatrasal had spent a year and a half or two in the Mughal army from 1665 AD – 1667 AD. At the same time, Aurangzeb had already engaged Bahadur Khan to win the fort of Devgarh. Jai Singh had also handed over the leadership of one army team to Chhatrasal and directed him to proceed to Devgarh.
When Aurangzeb's cruel eyes fell on the fort of Devgarh (Deogarh, formerly the capital of a Gond kingdom, 24 miles southwest of Chhindwara), he directed Mirza Jai Singh to conquer it from the then King Kurammalla. After winning the fort of Purandhar in the south, Jai ​​Singh now entrusted the responsibility of conquering Devgarh to Bahadur Khan. But despite his fight for several months (April 25th -September 17th, 1667 AD), he did not succeed and the morale of the Mughal army was falling.
At such time, Chhatrasal's team arrived and developed a winning strategy. Upon making an initial assessment of the fort and the enemy's activities, Chhatrasal thinks: "If so many Mughals are unable to conquer the Fort, I too can surely prevent them from conquering my Bundelkhand." According to the strategy, the Mughal army laid siege to the fort. Chhatrasal, along with his brothers, Ratanshah and Angadshah, put their team at the entrance of the fort where the defense line of Kurammalla was weak. A handful of Chhatrasal's soldiers created havoc, a terrible war ensued. Bahadur Khan's army was losing their confidence. Today, Chhatrasal had assumed the form of the god of death Yamraj. He was slicing down Kurmamalla's army like carrots and radishes and his team was moving forward overcoming all check-posts in their way. Stunned by the power of Chhatrasal's sword, Kurammal's army started backing away in desperation. As Chhatrasal waved his flag on the fort of Devgarh, Bahadur Khan's army took full control of the fort.
But such an impressive performance of Chhatrasal and his team made Bahadur Khan ashamed and jealous. Kurammalla's army was coming to surrender inside the fort. At this time, an untoward incident happened. A Rajput chief of the returning Kurammalla's army deceivingly attacked Chhatrasal with the sword. The blow was so heavy that Chhatrasal fell to the ground and fainted. He sustained the harsh blow due to a strong iron nettle around his neck.
Chhatrasal lying on the battlefield was being looked after by his devotee horse Bhalabhai. Bhalabhai would not even allow any person to come near. The incident happened at night after dusk and the horse kept watch over Chhatrasal's fallen body throughout the night. In the morning, Chhatrasal was discovered by his brothers Ratanshah and Angadarai and brought to the camp for treatment.
The praise of Chhatrasal had spread everywhere, but Bahadur Khan got the award of this victory. This lack of appreciation of his role was not only unacceptable but saddening to Chhatrasal and his team. He made up his mind to leave Jai Singh's Mughal army and became impatient to meet Chhatrapati Shivaji of Maharashtra.
Generally, Bundelkhand can be easily heartened through the following proverbs: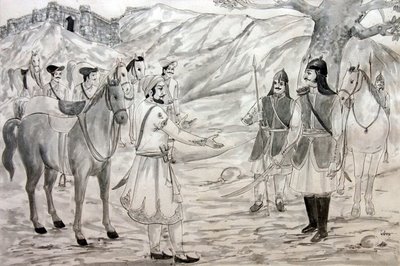 After conquering Devgarh, Chhatrasal planned to meet Shivaji and moved towards the south, towards the capital of Chhatrapati Shivaji. It was not an easy goal to get there with the path unknown and the fear of being caught by the Mughals was always looming on his head. Chhatrasal and Devkunvari continued their journey night and day, Chhatrasal in the guise of a pilgrim and Devkunvari in the guise of a man, both on separate horses. They made many stops along the way and won the hearts of many by serving those in trouble. Then they miraculously crossed the river Bhima which was overflowing with a heavy flood.
Shivaji had already received secret information about Chhatrasal's escape from the Mughal army and his intention to meet him in Maharashtra. Shivaji had already secretly welcomed him on the Bhima river. Upon reaching Sinhagadh, Chhatrasal sent a message to Shivaji who received it with loving emotions awaiting the great moments together. This union of Chhatrapati Shivaji and Chhatrasal became an invaluable heritage of history. The history of the eternal protection and security of Hindutva was written in this holy hour of the union of these two warriors.
Chhatrapati Shivaji inquired about Chhatrasal's well-being and paid tribute to Veer Champatrai and Sarandha flooding Chhatrasal's eyes with tears. Shivaji consoled him with sympathy and requested to stay with him for some time. Chhatrasal stayed here for a few months and learned a lot in terms of advice, moral and military support. Shivaji treated him like his son and assured him that the Maratha government army was all available to free Bundelkhand. It was 1667 AD when Chhatrasal had turned eighteen and a half years old. Before saying goodbye, Shivaji invited him to sit on his throne and wished that one day he too will sit on the throne in Bundelkhand and serve the motherland by freeing from the slavery of the Mughals. Saying this, Chhatrapati Shivaji presented his Bhavani sword to Chhatrasal in a heroic manner. Chhatrasal was thrilled to receive such great love from Shivaji. Thus, Chhatrapati Shivaji offered a heartfelt farewell to Chhatrasal and conveyed the divine message by giving him self-confidence and faith. Glimpses of these moments are captured by the then Lalkavi's Chhatraprakash Granth. Blessed was this year of 1667 AD when Chhatrasal returned from Sinhagad to 'Nijgarh' Bundelkhand.
After having two years (1665-1667 A.D.)] of extensive experience Chhatrasal returned to Bundelkhand with great hope. For the next more than two years (1725-1727), to connect his experience with the soil of Bundelkhand, he did a comprehensive survey of the hills, valleys, and forests and studied the Mughal bases established on his motherland. During this period, he established public relations and organized groups of committed companions. He also went to Devgarh and Bijori respectively to meet his brothers Angdarai and Ratanshah and revealed his goals. But, both were not ready to commit their support. The then historical text Chhatraprakash has a very poignant description of this incident, hearing which even an impotent person gets filled with enthusiasm. But Chhatrasal was committed to his sincere duty. So he started campaigning in virtually every area of ​​Bundelkhand.
Coincidentally, during this campaign period, in 1670A.D., Aurangzeb dispatched Fidai Khan to launch an attack to destroy the temples of Orchha (Aurangzeb's decrees of 8 May and 4 August 1670). Chhatrasal was just in search of time to demonstrate his war tactic. Mughal army was moving from Agra to Orchha with full force. The then 77-year-old Maharaja Sujan Singh of Orchha called Chhatrasal, repented for what happened with Champatrai and Sarandha, blessed him with his favorite sword 'Ran-karkasha', and sought his immediate help for the protection of temples. With the great support of Dhurmangad Bakshi's soldiers, Chhatrasal's soldiers stopped Fidai Khan in the ground of Dhumghat, 34 miles North of Jhansi. A fierce battle ensued. Aurangzeb's army was trapped between the armies of Chhatrasal and Dhurmangad forcing Fidai Khan to flee, on the third day, to Gwalior with the remaining army. The joy of victory evaporated soon when only in few days, Fidai Khan returned with a large army. Here, Chhatrasal was ready to respond and caused significant damage to Fidai Khan's army bringing back the joy of victory in Orchha. Sujan Singh embraced and greeted Chhatrasal with great respect. Today, Dhoomghat battlefield is known as Bundelkhand's Haldighati (a narrow mountain pass in Rajasthan where Mughal emperor Akbar's forces led by Man Singh I of Amber had defeated the Mewari army of Maharana Pratap, who escaped safely.) This battlefield Dhumghat of Madhya Pradesh is similar to the Haldi Ghati of Rajasthan. Dhoomghat was the most suitable entry point for Bundelkhand from the west.  This battlefield proved to be a boon for Chhatrasal. His fame spread in every nook and corner of Bundeli land and emerged as a strong leader.
After the victory of Dhumghat, Chhatrasal got busy organizing his military activity and started devoting his time in Mau Sahaniyan – Mau Mahewa. He chose the hills of Mau as the center of ​​his military activity. Bundeli public started getting a sense of divine powers within Chhatrasal. But, the lack of cooperation from his brothers was bothering him a lot.
It is said that around this time in 1671 AD, the 22-year Chhatrasal was resting under the tree somewhere near Dhuvela lake, Mau Sahania. In his dream, he also had a vision of a divine personality of Nishkalanka Buddha, who promised him his blessings as well as actual meeting in the near future. Upon opening his eyes, Chhatrasal discovered a coin of Nishkalanka Buddha's impression which he wore on his neck. Chhatrasal was infused with spiritual power. Possibility, Chhatrasal traveled to Vrindavan and Mathura secretly to meet his family priest. His future strategy was discussed in Vrindavan among his family priest's circle. This was all the outcome of his unconventional plan of action. With many ups and downs, and trying out unconventional action plans,
Bundelkhand itself became Chhatarsal's school.
(Source Credit: Yugpravartak Maharaja Chhatrasal)
Implementation & Establishment
This sixteen years period of Chhatrasal's life includes (a) Implementation Phase (1671-1682 A.D.) of eleven years and (b) Establishment Phase (1682-1687 A.D.) of five years. It is inspiring to learn how he implemented the experiences learned and understood during the previous struggle period and began seeing his dream being realized.
The Implementation Phase started with putting together a small army of Five Riders and Twenty-five Soldiers, which represented the whole society – from diverse castes and classes. Many Bundela martyrs protected Chhatrasal's life at Saheedi Chaupda war which took place when Aurangzeb had dispatched Tahavvar Khan to suppress Chhatrasal, which he failed to do. Upon hearing of havoc wrecked by Chhatrasal's soldiers on the Mughal army, many Mughal-loving tyrants started fighting directly with him, but at the same time, Chhatrasal started attracting more support of youth and elders spontaneously. As a result, his military power and organization started expanding automatically. Those who used to support Chhatrasal secretly started giving active support. In addition to his Wars With Terrorists, Chhatrasal became victorious by fighting against many princely states.
During this Establishment Phase, Chhatrasal met Mahamati Prannath and was graced and guided by him. He was coroneted publically as 'Maharaja' by Prannathji. Even as Chhatrasal's power was growing during this period, Aurangzeb kept sending many army Generals to Bundelkhand to destroy Chhatrasal's progress. But Chhatrasal, with the sword blessed by Prannathji, won all Wars With Mughal Generals.
Implementation Phase (1671-1682 AD) ​
Chhatrasal never gave up in the face of adversity, whether it was the siege of Purandhar Fort, the battle of Devgarh, or the battle of Dhumghat. The victory was the fervor of his conscience. That is how he completed nine years of struggle. The fruit of struggles feels truly sweet when accompanied by the spirit of selfless service for the motherland. It is said that Swami Naraharidev of Vrindavan, the family priest of the Bundelas, sent his blessings to Chhatrasal at the hands of his disciple Sarisdev.
According to Chhatraprakash's book, the initial army of five horsemen and twenty-five soldiers that Chhatrasal had first established in collaboration with Mahabali represented the whole society – from diverse castes and classes. Among them were three Bundelas, several Rajputs, Teli (Modi), Khangar, Manihar (Chudihar), Bari, Kahar (Dhimar), Dauwa (Ahir), and two Muslims. These are listed in. Later, along with Fauje Miya, Aurangzeb's Mansabdaar Baaki Khan also joined Chhatrasal's army by letting go of his earnings from Aurangzeb. The five horses were named Bhalebhai, Lakshchhi, Mrugchhona, Bhabhookha, and Damini, the female horse. Under the flag of Chhatrasal, they reflected the public sentiments of the entire Bundelkhand.
Here, these thirty warriors stood in total faith to bring down the army of tens of thousands of soldiers, thousands of cavalry and cannons, and hundreds of generals! History is witness to the fact that even the smallest organization can make the impossible possible. They were all inspired also inspired by Champatrai and Sarandha's sacrifices and blessed by Orchha king Maharaja Sujansinh. The strong bridge to Bundeli's freedom was built first by these strong pillars and stones. These twenty-five soldiers, under the leadership of Chhatrasal, gathered on the Peacock hill near Maheva (Pargana Jatara – Tikagarh) before beginning their first battle.
The poets and historians of the time have given a live depiction of this unique organization, of which Lalkavi's Chhatraprakash is noteworthy. he has listed the names of the first twenty-five soldiers as (1) Kunwar Narayandas (2) Q. Govindarai (3) Sundarmani Pamar (4) Dalsingar (5) Ram-mani Dauwa (6) Meghraj Parihar (7) Dhurmangad Bakshi (8) Khaagar Kharon (9) Kishori (10) Prabal Mishr (11) Dalshah (12) Hari Krishna (13) Lachhe Rawat (14) Ram-mani (15) Maanshah (16) Haribans (17) Meghi (18) Pardaun (Pradyuman) (19) Dayal (20) Bhanu Bhatt Baksi (21) Fauje Miyan (22) Panwal Dhimar (23) Lohirak (Siromani) (24) Kharge Bari (25) Pate, Modi
Chhatrasal's army used two flags until 1683 A.D.: (i) first in yellow color, with the pictures of Shri Marutiji (Hanuman) and Kuldevi Vindhyavasini Devi, and signs of the moon and the sun on it (ii) The second saffron-colored flag was for exclusive use on the battlefield with the symbol of Shri Maruti Ji. The later flag was saffron-colored with the moon and the sun marked in yellow. In 1686 AD, Maharaja Chhatrasal used saffron-colored 'Digvijay Flag' for his Digvijay Yatra with prominent signs of the moon and the sun.
One day when Maharaja Chhatrasal was on the top of a hill and was enchanted by nature's beauty. Suddenly, a Mughal army came down the hill. Their spies saw a man on the hilltop and followed him. Soon, they identified him as Chhatarsal and too alone. They made their army aware and the hill was completely sealed. The Mughal soldiers started climbing the tough hill, many rolled down and suffered falls. Chhatrasal's army led by Lachhe Rawat and Baagraj Parihar was hiding in the cave of that hill at that time. They heard the sounds of falling rocks and were stunned to find out that the Mughal contingent was quietly climbing up the hill to capture Chhatrasal. Without wasting any time, they also started climbing towards Chhatrasal's direction. In front was a group of Mughal spies and behind them, a group of brave Bundelas. Bundela heroes were climbing at four times the speed of the Mughals.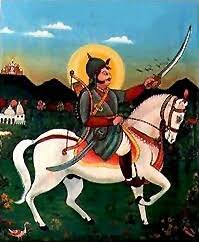 Sounds reverberating on the hill fell on Chhatrasal's ears. He finds himself completely trapped by the Mughals and started raining arrows on the Mughals. But the enemy's numbers were increasing like a locust party. The group of Baagraj started attacking the Mughals from below and Chhatrasal from above. The Mughals got surprisingly stuck in the middle, they started seeing stars in the day itself. They couldn't understand from where all these people had suddenly popped up. Many lives were lost on both sides in this fierce fight. Brave Bundelas put their lives on the line to protect Chhatrasal's life. Many brave Bundela martyrs like Harishankar Mishra, Nandan Chhipi, Kriparam, and others lost their lives here. Since then, this place is called Shaheedi Chaupada.
This incident had happened when Aurangzeb had dispatched Tahavvar Khan in 1678 A.D. to suppress Chhatrasal. The Mughal spies had planned to capture Chhatrasal alive and dead without informing their army general. But they became victims of Chhatrasal's army.
Upon hearing of havoc wrecked by Chhatrasal's soldiers on the Mughal army, many Mughal-loving tyrants started fighting directly with Chhatrasal. At the same time, Chhatrasal started getting more support from youth and elders spontaneously. As a result, their military power and organization started expanding automatically. Those who used to support Chhatrasal secretly started giving active support. During this period Chhatrasal became victorious by fighting against the following princely states: (i) Kunwar Sen Dhandhera, Kunvar Indramani (1673 A.D.) (ii) Fidai Khan (1671 A.D.), Syed Bahadur Khan, Khaliq Khan (1672A.D.), Muhammad Khan, Hasim Khan and Randulah (1673 A.D.), Hasim Khan(1676 A.D.), (1678 A.D.), Munauwar Khan (1676 A.D.), Karmailahi (1678 A.D.), Abdul Hamid, Ikhlakh Khan and Rumi (1680A.D.), Tehbar Khan ( Three times, 1678 A.D.), Dalelkhan (1681 A.D.), Basalat Khan, M. Afzal and Shamser Khan (1682 A.D.) and Sher Afghan (1682 A.D.).
During the implementation period of these eleven years, apart from these big wars, minor wars used to happen every day. Chhatrasal got immense wealth and fame from these wars, which was very helpful in the independence campaign of Bundelkhand.
Establishment Phase (1682-1687 A.D.)
During the eleven years of the implementation period, i.e., from 1671 to 1682 A.D., Chhatrasal saw a ray of the great hope of self-rule (Swa-raaj) of Bundelkhand. He felt his dream coming true and the time of fruition was the only unknown. His own experience of receiving blessings of Vijayabhinand Buddh Nishkalanka and finding the coin with His image was a big game-changer. The twelve years of life since that incident speaks of the efficacy of that divine support to fulfill his mission. First, in the early phase, with the guidance and inspiration from Chhatrapati Shivaji, and later, from his spiritual master Mahamati Prannath.
Chhatrasal was graced by Mahamati Prannath in the same way as the grace of Samarth Guru Ramdas on Chhatrapati Shivaji. At the time when Chhatrasal was struggling to weaken the power of the Mughals and to overthrow it around 1694 A.D., at the same time, Mahamati Prannath was knocking at the doors of the Hindu emperors, nobles, and kings to promote the spirit of world welfare by raising awareness of one true intention of all religions – humanity's wellbeing. Mahamati Prannath aimed to accomplish this by merging universal religious ideals (like Gautam Buddha's) with the political system.
To fulfill his intended purpose, Mahamati Prannath had contacted King Aurangzeb, Maharana Raj Singh of Udaipur, Raja Bhav Singh Hada of Bundi, and others for support of their political power. In his efforts to cause the awakening of the spirit of humanitarian-based nationalism, in 1682 A.D., during his Jagni tour at Gadha (near Jabalpur, his powerful sound was being broadcast through 'Kirantan' –
Meaning, "All Rajas and all Ranas, please come together and fight to protect your religion."
But they had disappointed him. The morale of the Hindu kings, the Kshatriyas, and the Rajputs was so low during the Mughal period that in fear of Aurangzeb, they had put down their weapons in the fight for justice. Prannath Ji challenged them in harsh words so they may be awakened:
As he continued to wander in search of a supporter, Mahamati Prannath heard praise for Chhatrasal and met him through his nephew Devkaran in Mau, M.P. According to the Bitak scripture account (by Laldasji), Chhatrasal first met Prannathji as Vijayabhinanand Nishlkalank Buddha in a meditative dream in 1671 AD, while he was resting in a forest near Dhubela lake (Mau Sahania, MP). Then 12 years later in 1682, he met him physically, coincidentally near this same lake, at a place now known as Tidani Darvaja. It is on the path going towards Tidani village located in the N-W direction of the Dhubela lake. As soon as Mahamati Prannath's sight fell on Chhatrasal, he recognized in him the spirit of a great warrior soul with a true love for the motherland. Prannathji blessed him by putting a tilak, an auspicious mark, on Chhatrasal's forehead in a sudden meeting.
Just as Shri Krishna Ji had blessed Arjuna with the knowledge of Gita and "Gandiva" bow, similarly Mahamati Prannath had bestowed victory and blessings to Chhatrasal by enlightening him with Tartam Wisdom and a "Jal Pukar" sword. He blessed him with spiritual, political, and social guidance and the strength to fight for truth and justice. Thus, his whole life was decorated with the colors of valor, devotion, and service. The Bitak scripture describes vividly Chhatrasal's affinity for religion and spirituality.
In 1675 AD, Chhatrasal had won the Panna region from Gond Raja and later, as per Mahamti Prannath's guidance and blessings, he established Panna as the capital of Bundelkhand. On his 38th birthday (Jyeshtha Shukla Trutiya, Wednesday, evening in 1688 AD), on his 38th anniversary, Chhatrasal was coroneted publically as Maharaja. Thus began the journey from zero to Maharaja.
Chhatrasal had built his military camp and capital at Mau, near Naugaw, M.P. Initially, he was managing the operation of Bundelkhand from here. Later he started the work of governance from Panna but kept Mau as his main military camp.
Once Chhatrasal understood Mahamati Prannath's teachings of universal oneness and love, he was completely transformed. He put forward efforts to make a workable peace treaty and heal the relationship with Aurangzeb by first sharing common ground ideas including respect for universal inter-religious principles. With a focus on the essential oneness of all religions and respectful co-existence, he even organized inter-religious conferences in his capital city, Panna.
Chhatrasal came forward to pacify the terror spreading due to the inertia brought in by overemphasis on mechanical rituals in all religions. It had become clear to him that the quelling of fundamentalist sentiments and actions and the germination of religious liberalism was possible only through raising self-awareness of critical mass, what he called "Jagni'.
The uniqueness of Chhatrasal's fight was that he never had a fight against any specific community, including Muslims, even though his parents were killed by the Mughal. Clearly, his fight was with religious fanaticism. Despite being a proud Hindu background, his soldiers were from diverse castes, including Muslims. His other unique principle was never to start a fight with a motive to increase his state's borders. 
He was a very humble and multi-faceted genius, an embodiment of bravery and an idol of single-minded loving devotion. He would also take up the sword as needed, and write poetry in moments of peace or even get absorbed in his own bliss in his meditative state.
Chhatrasal considered himself as a divine being. Due to his contribution of spreading Mahamati Prannath's divine message throughout the country, he qualified to be the "Nada Putra" or the son who shines his father's work. Even after Raaj-Tilak or coronation as Maharaja, he considered Shri Prannathji as the Maharaja of Bundelkhand and he always used to call and identify himself in his writings, as Prannathji's servant (Diman, Diwan). Historical documents (Sanads) written by Maharaja Chhatrasal during 1682 – 1687 A.D. show that he wrote as "Diwan" not as Maharaja. Only after this period, he started writing himself as Maharaja. Chhatrsal's politeness was truly inspirational.
In 1683 A.D., the Panna Shri Bangla Ji temple was established first. This is where Prannathji used to give his discourses. Historical documents also reveal that in the first year of Milan (Chhatrasal Milap), Chhatrasal was crowned with great pomp at the first construction site, i.e., at Bangla Ji of Panna on his 34th (thirty-fourth) anniversary. In the same year, the city of Panna developed and became the capital of Bundelkhand.
Prannathji called him by a spiritual name "Sakundal."
The discussion of Chhatrasal's coronation in Bundelkhand had spread far and wide. Just as the lion himself is called the king of the forest, similarly Chhatrasal had himself become Maharaja by the grace of the Lord. While the Bundeli people were experiencing immense happiness, other kings were gossiping about his stature. Not only the kings who had a feeling of enmity but also an ascetic (Sadhu) Jain philosophers Akshar Anany ju criticized and opposed Chhatrasal's coronation. The Rajas and Raos of Orchha, Datia, Chanderi, and Gadha also expressed their opposition in writing. Maharaja Chhatrasal also responded to all wisely and respectfully, including with his philosophical insight to Akshar Anany ju. So, it was critically important to officially pronounce Chhatrasal as Maharaja.
During this establishment period of 1682-1687 A.D., Aurangzeb kept sending many army Generals to Bundelkhand to destroy Chhatrasal's progress. Even as some Hindu kings and Jagirdars continued their support to the Mughals out of their fear and greed, they had to give up to Chhatrasal. On the next day of the meeting with Prannath Ji, in 1682A.D., Sher Afghan attacked Chhatrasal's army, but it suffered a terrible defeat. So, Chhatrasal announced that day of victory as the day of establishment of self-rule of Bundelkhand.
To suppress the growing influence of Maharaja Chhatrasal, Aurangzeb ordered multiple army Generals such as Shahkulin in 1683 A.D., Jalal Khan in 1685A.D., Purdal Khan in 1686 A.D., Rana Pratap Singh in 1687 A.D. and Ranmast Khan. They all suffered a shameful defeat and fled from the battlefield. To mark the victory and celebration of freedom for the Bundelkhand, Maharaja Chhatrasal organized a Digvijay Yatra in 1686-1687 A.D. in which Prannathji also participated seating on an elephant.
(Source Credit: Bitak by Laldasji, Yugpravartak Maharaja Chhatrsal, Shri Prannath Tartam Wani Shri Kuljam Swaroop )
Maharaja Chhatrasal fought and conquered two hundred fifty-two fierce battles to establish a free Bundelkhand. He had to suppress so many heretics in wars – small and big – throughout his life. Then he organized a grand victory tour (Digvijay Yatra) of the Bundelkhand with his spiritual guide Mahamati Prannath seated on an elephant. Along with some glimpses of the fierce battles and the story of Digvijay Yatra gives an idea of the scope of his life-long fight, challenges he faced, and the extent of divine support he had throughout his journey for truth, justice, and freedom.
This proverb is completely true for Maharaja Chhatrasal: "Jako rakhe saaiyaan maar sakye na koi" or "In awareness of divine presence, none can hurt you". From birth amid the enemy army, infancy spent on the back of the heroic mother, the death of the parents at age twelve, the period of an orphanage and lack of support of near and dear ones, the flaring of the flame of rebellion by the end of age twenty, and the genuine determination to face the lifelong struggle against the cruel Mughal empire – amid all these extremes of experiences, Chhatrasal remained timeless and invincible fulfilling the dream of his parents. His life teaches us that the work of the sword is in the war, not always in the sheath and that, for a true warrior, the battlefield is simply a playground. Today, his name illuminates the whole world with inspirations of all kinds, and hence, in the true sense, Chhatrasal is having great historical importance or momentous significance. He is "the Epoch-Making", the "Yugpravartak."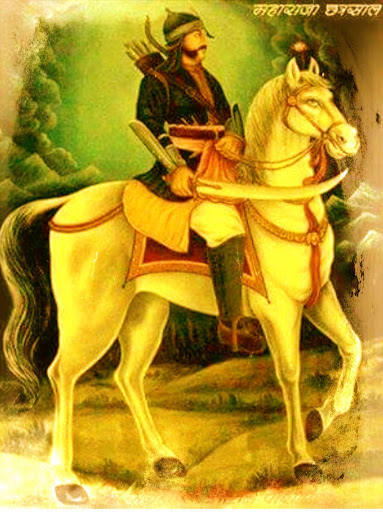 The following folklore lines spontaneously erupt on the tongue of the people due to Maharaja Chhatrasal's faith, his immense war power and the experience of happiness and peace he brought to his people, and the scares he had caused among his enemies:
"As long as you remain grounded in your faith, the earth shall reverberate with abundance and prosperity in your kingdom. Whichever direction your horse will turn his face, it will bring you victory and success."
"The Yamuna in the north and Narmada in the south, Chambal in the west and Tons in the east, none holds the daring to fight with Chhatrasal."
"Whoever tries to disintegrate or speak low of Chhatrasal's kingdom, he shall be eradicated from roots. He is digging the grave for his own family and friends (clan)."
In his book "Vijay hi Vijay" (Victory and Victory Alone!), Pandit Pratapnarayan Mishra mentions the following phrases coming out of the mouth of the Mughal soldiers, which proves that 'victory' is synonymous with 'Chhatrasal'. Chhatrasal means "Victory and Victory Alone!" Phrases coming out of the mouth of The Mughal soldiers goes like this:
"O, friend! If he is a man, then someone can give him a good fight! He is simply a Satan sent to destroy us. He must have a spirit of a Jinni or a phantom. By mischievously using his supernatural powers, in one moment, he appears at the place and the next moment, in a completely different place and different forms. No one knows how he reaches miles away so fast! Just don't ask anything, Thank God, I am alive. Didn't you see, how many he killed in a few moments? O friend, I have heard that he can even fly whenever he wants! He had seen that devil flying with his own eyes. He flew away at the speed of the tornado. Friend, to fight with these ghosts and spirits is to willingly invite our death. If we are alive, then alone the world is meaningful. Alas, poor unlucky Abdullah died for no good reason."
Dhandhera clan rulers were the blind follower and allies of the Mughals. They had betrayed valorous Champatarai, Chhatrasal's father and mother Ladkunvari (Sarandha) at the behest of the Orchha people. Finally, they became the cause for their death. So, Chhatrasal attacked a Sahara. Kunvarsen and his soldiers were inattentive to the war, so they all fled and took refuge in the fort. Chhatrasal immediately laid siege to the fort. The siege continued for several days. The Mughal army did not come to the aid of Kunvarsen as expected. This filled Kunvarsen's mind with hatred for the Mughals and he surrendered to Chhatrasal and prayed for friendship. Seeing Chhatrasal's generosity, Kunvarsen was stunned. He also assured and fulfilled Chhatrasal's full cooperation in realizing the ultimate goal of protecting Dharma and awakening Hindutva. It was a fruitful victory for Chhatrasal in 1671 A.D. This part of Malwa (large area of western and central MP and parts of southeastern Rajasthan and northern Maharashtra) remained under the control of Chhatrasal for life. Kunvarsen proposed to Chhatrasal to marry his niece Dankunwari (daughter of Sahabray Dhandhre) to heal relationships. In this way, the friendship of both was converted into a close kinship.
The review of various aspects of the State Governance System of Maharaja Chhatrasal speaks a lot about his progressive and service-oriented personality. Here we will review all of these aspects of Maharaja Chhatrasal's state governance: Judicial System, War Policy, State Expansion, State Treasury, Army Activity, Military Resources, Treaty Politics, Military Aid to the Mughal power in South India, State Divisions, Martial Arts, Public Life, Social condition, Costumes, and Ornaments Food and Leisure, Various festivals and fairs, Economic condition, Building art, State Business in the public language, Education and literature, Paintings and Music. These are all full of inspirational teachings and are relevant in our post-modern era.
As great mighty as Maharaja Chhatrasal was, he was equally great in running the state. He never allowed the wasteful use of his people's energy. The Mughal rulers and the kings of Orchha exploited their people's energy, particularly manual labor power, to build big buildings, forts, and palaces. In numerous instances, laborers disabled or dying accidentally during construction projects were simply sealed in the walls.
Maharaja Chhatrasal never forced his people to work as slaves or kept them hungry. He always believed in the happiness, peace, and prosperity of his people supported them by nurturing them. 
Here is a line from his poem: (Chhatrasal Kavyanjali, p.119)
Let's review each of the aspects of governance and public life.
Maharaja Chhatrasal never directly interfered in the new judicial system. However, he used to keep a close eye on the judicial process. Therefore, this system was popular and beneficial to all. There was absolutely no discrimination of any kind.
He organized village panchayats (local courts) under this Panchayati judicial system. These Panchayats (courts) were often held in the evening hours (Athai Jor) when people were free from their household and farming work. Above the Village Panchayats were district Panchayats and the State Panchayat, which was in Mau Maheva (proximity of Mau Sahaniyan). These Panchayats included representatives of all castes. The poor and disadvantaged people were given special representation to minimize the atmosphere of inter-caste animosities. There was no direct intervention of any rich landowner (zamindar) or any Estate holder (jagirdar). The Panch, a group of five representatives, was regarded as God's ambassador. Maharaja Chhatrasal's emphasis was on the morally just Panchayat system as he believed justice was the main religion of the king. In his poem, he reflects this practice:In his poem, he reflects this practice:
The form of the justice system that kept on waving in the conscience of Maharaja Chhatrasal reflects in the pillar-like statements in his poem:
In other words, "it is okay to torture those who are arrogant and let the criminal bear his fair share of punishment for his crime. Never hurt the poor innocent by becoming a slave of your ego due to power. Chhatrasal humbly says that if someone is a king, and follows my words, then there shall be no suffering of any kind in his state." Blessed are the judicial system and its result under the rule of Maharaja Chhatrasal.
Every person's rise and fall are determined by his policies. Maharaja Chhatrasal, during his struggle period, had thought very carefully to bring down the Mughal empire and had found the key to success. He saw first-hand and thought: "Who will protect the motherland if country-guards are allowed to be killed due to reckless choices made by the protector of Dharma and the nation?" Therefore, the state should be governed with appropriate policy and with teamwork. It is utter foolishness to take open confrontation with the heretics without having a competent military force.
Maharaja Chhatrasal assessed that – not all the people are supportive of the Mughals; some are neutral, some are fearfully supporting the Mughals, and some others are in favor of the Mughal empire who had sold their self-respect, taking pride in being the Mughal's blind devotees. To get the cooperation of people who supported the Mughal power out of fear, and those who had chosen to remain neutral, Chhatrasal realized that first, they had to be won over and brought under his flag. He knew that there were many warriors among the neutral people who were just waiting for strong leadership against the Mughal power.
Once he completed this assessment, Chhatrasal first started attacking those who supported the Mughal power by selling self-respect. First, he defeated the Dhandhera rulers and then the Kol and the Mavasi communities. Now, they were in Chhatrasal's support. Keshavrai Dangi was killed by Chhatrasal for his stupidity, but Chhatrasal invited his sons to join hands and they did support him for life. Thus, the policy of Maharaja Chhatrasal succeeded. As a result, neutral and scared people started coming to him. His assessment turned out to be correct and the plan was successful. In this way, Maharaja Chhatrasal got the cooperation of the Bundeli people, as a result, the unstoppable sun of independent Bundelkhand started rising on the horizon.
Maharaja Chhatrasal started attacking the Mughal military camps openly. When appropriate, he demonstrated the use of both generosity and punishment effectively. For example, he transported many wounded Mughal generals to their camps, including handing over the body of Sher Afgan to his son. He used to release the imprisoned Mughal Generals who paid the required taxes (Chauth), but if that General shows us to fight the third time, Chhatrasal would end his life. Many Mughal soldiers surrendered because they liked his policies. Again, the patient Maharaja Chhatrasal, was so dismayed by the repeated attacks of Aurangzeb, that he had cut into hundreds of pieces the body of Purdil Khan (Vs. 1758) who had come to fight for the first time. After this war, no Mughal General dared to attacked Chhatrasal. Even Aurangzeb stopped sending anyone to fight with Chhatrasal.
Maharaja Chhatrasal's care to protect his soldiers' lives and the flexibility in his war policy were praised even in the enemy camps. As a result, thousands of enemy soldiers changed sides, surrendered, and served in his military for a lifetime.
Some Mughal Generals who were otherwise afraid of Chhatrasal's military might dared to attack just because they were sure of a release if captured, upon paying the due taxes (Chauth). So, they were less concerned about losing their lives, if captured by Chhatrasal's army.
In essence, Maharaja Chhatrasal's whole life was a "Dharm-Yudhdh," the war for truth, non-violence, personal freedom, and justice. His war was never against any specific faith such as Hindu, Muslim, Christian, and so on, which is often equated with Dharm Yudhdh. However, being conscious of Mughal's cunningness, devious and deceitful tactics, Maharaja Chhatrasal regarded following the principles of "Dharm-Yudhdh" as utter foolishness. He had amazing willpower and skills to instantaneously change his war policy according to the situation at hand. For instance, he would choose to retreat when the enemy's army was strong and then attack by deceit by adopting a timely guerilla war style. He always tried to conduct wars so that minimum soldiers are hurt or killed.
The land on which Maharaja Chhatrasal established an independent Hindu nation is the chest of Mother India, which got its name 'Bundelkhand'. In states adjoining Bundelkhand, Maharaja Chhatrasal was regarded as a highly influential personality. He had not even the slightest smell of personal ambitions despite having all the capabilities. His goal was to become an emperor but to destroy the demonic tendencies and activities. Therefore, he empowered and delegated responsibilities to those who came forward to fulfill that goal. Digvijay's journeys of sons Jagatraj and Hridayshah are proof of Maharaja Chhatrasal's open-heartedness. After conquering the Rewa kingdom, he asked his son Hridayshah to return it – let go of it. He even assured Aurangzeb, his arch-enemy that he will never attack Delhi, even as Aurangzeb kept conspiring and attacking against Chhatrasal for 27 consecutive years.
Once, Delhi ruler Muhammad Shah Badshah invited Maharaja Chhatrasal in the marriage of his niece. Maharaja Chhatrasal was unable to attend, so he sent his two princes Hirde Shah and Jagatraj to Delhi. When his niece was presented with the big gift of rupees one hundred thousand, Muhammad Shah was so happy to see Maharaja Chhatrasal's loving nature, that he said to his sons: "If Maharaj would have come here in the marriage by himself, he would have gifted one or two of his estates (jagirs)."
Undoubtedly, the expansion of the kingdom of Maharaja Chhatrasal was not limited to Bundelkhand only, the boundaries of the state were around it. His all-victorious journey and diamond mines and stone deposits in his kingdom are said to be Mahamati Prannath's blessings:
"O Chhatrasal, every corner of your kingdom shall be prosperous. Wherever your horse will set foot, the land of your kingdom will rise with diamonds. Whichever direction your horse will face, you will conquer that land."
Generally, Bundelkhand can be easily heartened through the following proverbs:
Maharaja Chhatrasal's Bundelkhand had about 75 thousand sq. km area, 44 cantons, 36 ministries (a.k.a. 'kaarkhane') in which responsibilities were entrusted to the dignitaries as well as to the recluse saints.
The State Seal (currency imprint) of Maharaja Chhatrasal had the following writing:
Bundelkhand under Maharaja Chhatrasal was strong and its people were happy and prosperous. He had adopted a liberal form of tax collection and believed that the prosperity of his people was the real invaluable treasury of the state. His own belief and practice as a ruler reflect in his poem:
 
After becoming Maharaja, Chhatrasal had 44 cantons and 11,665 villages with an annual average income of 1.5 to 2 crores. He also had additional income from taxes (Chauth) recovered from the captured Mughal warlords and from attacking the Mughal treasury coming from South India. Apart from this, according to public opinion, a secret treasury for emergency needs of about nine crore rupees was maintained, which was only used during untimely war emergencies. Any illegal recovery of money or resources from the public was literally absent.
Overall, due to tax income from his large state and mining of diamonds in Panna, and the discovery of the huge treasure of Aalhoudal had made Chhatrasal's kingdom wealthy. Hirde Shah, Jagatraj, and Bajirao Peshwa had an annual income of Rupees 42 lakhs, 36 lakhs, and 33 lakhs respectively from their state governments. In 1721 AD, when his son Jagat Raj discovered a huge hidden treasure from the Mangalgarh (Mudhiya Gir) mountain of Charkhari (Chakrapuri), he wrote to him an inspirational letter guiding him to use it for public and environmental works throughout the state and bury the unused treasure in the fort itself. This shows Chhartasal's level of integrity and high character.
Maharaja Chhatrasal did not get anything in the name of military power in the ancestral inheritance. With the help of his self-confidence and divine power, he had implemented his goal. Starting with the fighter group of five cavalry and twenty-five soldiers, Chhatrasal's army grew very big. When he became Maharaja, his military had forty to fifty thousand soldiers, twelve to fifteen thousand cavalries, five hundred artilleries, a cannon factory at Mahoba, and a total of seventy-two army commanders. It has been noted that at the time of some wars, the number of soldiers used to exceed one hundred thousand. And three thousand cavalry soldiers were under the direct control of his son Hridayshah.
At the initial stage, along with the daughter of Badariya potter and Lallu Gadaria, joined Mahabali Teli, a confident and intimate companion warrior of his father Champatrai. Mahabali was the resident of Chhatrasal's mother's town Dailwara. His great efforts made Chhatrasal a valiant warrior.
While Champatarai was wandering the jungle to escape the royal wrath, Sarandha had left a colt and some jewels as a heritage for Chhatrasal with Mahabali and had told him to return it to Chhatrasal in times of need and help him wherever possible. Fulfilling his promise, Mahabali handed over to Chhatrasal everything his mother had given, inspired him to build his fight against Mughals with courage, and even offered if necessary all his assets for the great cause. Mahabali was even instrumental in finalizing Chhatrasal's marriage with Devkunvari, the daughter of the Panvaar clan of Berchha.
Just as the 'Baanar' army helped Shri Ram to win Lanka, similarly Chhatrasal was given full support by the tribes of Vindhyachal in utter helplessness and made the impossible independence of Bundelkhand possible. Because of them all, Maharaja Chhatrasal had won the biggest battles.
Chhatrasal got miraculous successes starting with the meager organization of 5 cavalry and 25 soldiers. It is with this small number of soldiers that he declared a revolt against the throne of Mughals in Delhi. His army got their first canon only after defeating the faujdar of Dhamoni (24 miles North of Sagar township, Tahavvar Khan Vs. 1735)) when Chhatrasal snatched his guns away from him.
The first victory of Maharaja Chhatrasal was when he defeated the Dhandheras. After being Influenced by the non-violent strategy of victorious Chhatrasal, Dhandhera Kunvarsen's heart was changed and he extended a hand of friendship with Maharaj Chhatrasal, which he maintained throughout his life. This had a very deep far-reaching effect on the people of Bundelkhand. Chhatrasal's military activity then grew by lightning.
Chhatrasal had set a unique example by defeating Keshavarai Dangi in a dueling war and saving the potential power of the young Bundelas to be martyred. He awakened the spirit of independence in Bundelkhand. Seeing these successes, about seventy small and big zamindars and vassals of Bundelkhand, including the zamindars of Katera and Shahgarh, had come under the flag of Chhatrasal. His brothers Ratanshah and Angdarai also met him. All the guns snatched from the Mughals helped increase the tactics and enthusiasm of the Bundeli Army. Later on, the number of guns had increased unexpectedly and were shared among all his sons when they were assigned responsibilities for different regions.
The initial lack of financial resources for conducting military activities was resolved upon the blessings of Mahamati Shri Prannath Ji, after which the entire Panna region began flourishing with diamond mines. Also, due to the inspiration of Shri Prannath Ji, there was huge public support for Chhatrasal in the public mind. According to Parashuram Goswami, "Swami Prannath inspired the Bundeli people and got huge public support, not only this, Swami Ji himself went along in many attacks with Chhatrasal. By finding a saintly personality like Prannath Ji along with them in the war field, the enthusiasm of Chhatrasal's soldiers had skyrocketed in their war against the Mughals." (Ref: Hindu KulGaurav: Veer Chhatrasal, page 91)
According to Chhatraprakash's book, the initial army of five horsemen and twenty-five soldiers that Chhatrasal had first established in collaboration with Mahabali represented the whole society – from diverse castes and classes. Among them were three Bundelas, several Rajputs, Teli (Modi), Khangar, Manihar (Chudihar), Bari, Kahar (Dhimar), Dauwa (Ahir), and two Muslims. These are listed in. Later, along with Fauje Miya, Aurangzeb's Mansabdaar Baaki Khan also joined Chhatrasal's army by letting go of his earnings from Aurangzeb.
Chhatrasal had built his military camp and capital at Mau, near Naugaw, M.P. Initially, he was managing the operation of Bundelkhand from here. Later he started the work of governance from Panna but kept Mau as his main military camp.
Maharaja Chhatrasal had become self-sufficient in military power in a short time. Cannons were being manufactured in Bundelkhand itself, ammunition was being made all over the country. Good breed horses also started getting ready here. The multi-talented Maharaja Chhatrasal had taught to grow and make everything in Bundelkhand itself. There was no need for foreign goods in Bundelkhand. Every hand had a job and everyone had a passion for every work and everyone had a deep attachment to the motherland.
According to Bitak Granth (Chapter 60, by Laldas Ji), in April 1688 AD, the poor people of Rath Panwari, who were said to be helpless, had killed five thousand riders of the Mughal warlord Mittu Pirzada on the strength of their sticks. The general public had spontaneously turned into skilled soldiers!
In essence, the rebellion against the Mughal empire was a well-planned and well-thought-out movement for the political liberation of Mother India, which was realized in Bundelkhand.
Maharaja Chhatrasal did not have artillery in the beginning, but he snatched the artillery from the Mughals, first in the Dhamoni war. Initially, they had only a few cannons, but later Chhatrasal established an artillery factory in Srinagar (canton Mahoba), from where guns and gunpowder shells were being manufactured in abundance. Fauje Mian was assigned this operation and Maharaja Chhatrasal himself used to inspect periodically. Gradually, Chhatrasal Ji became self-sufficient for military material. Good horses of the foreign breed were also being produced in Bundelkhand. In the whole of Bundelkhand, the youth were specially prepared for military education. Horses and soldiers are the strong pillars of military power and hence, the Maharaja had paid special attention to it. His poems say:
There were also a large number of camels in the army. Trained elephants were also taken into battle. There were many varieties of camels, depending on their race. From time to time, military campaigns were carried out in the difficult valleys, due to all this sometimes there were encroachments on the borders even outside Bundelkhand. Anyone coming in the way was destroyed due to the proper availability of military material.
Artillery was distributed at different places for proper security of Bundelkhand. The capital Panna always had seven thousand soldiers and fifty guns ready to defend against any attack. The authenticity of military material is established by the letter of Maharaja Chhatrasal, written on Jyeshth Sudi Panchmi VS 1787 from Mahewa. Of course, the self-sufficiency of military resources had made Chhatrasal 'Maharaja'.
After the Orchha King Maharaja Vir Singh Ju Dev (VS 1663-1684), the clouds of infection were over the Orchha Gadi. The Mughal Empire had dominated over Bundelkhand. Against which Champatarai did it by betting on his life. When his promising son, Chhatrasal started the process of overthrowing the power of egomaniac Aurangzeb from the Bundeli land, then the helpless Aurangzeb resorted to diplomacy instead of the battlefield.
He had become a dwarf in front of the immense force of Maharaja Chhatrasal, gradually the Mughal power was nearing an end. The people were also fed up with the wars, which were experienced by Maharaja Chhatrasal. The campaigns of joint wars had made Maharaja Chhatrasal earn a lot of experience.
Maharaja Chhatrasal took advantage of many treaties made and broken with the Mughal emperor. Till now the area of ​​treaties had remained limited to Bundelkhand. Tahabbar Khan, who was once defeated by Chhatrasal before VS 1735 (during Chhatrasal's third marriage ceremony – YP 122), explained to Aurangzeb (post VS 1735) that to be successful outside of Bundelkhand, Chhatrasal must be kept within the Bundelkhand. So, Aurangzeb was busy ​​weaving a treacherous warp and was worried about Bundelkhand being snatched away from him. Following this diplomatic trick of Tahabbar Khan, Aurangzeb drafted a treaty and arranged to send it through a messenger mediated by Tahabbar Khan. Here Tahbbar Khan eloquently won the trust of Maharaja Chhatrasal and even regarded him as a deity.
In the treaty, Aurangzeb's secret intention was to take back the land that had been snatched away from him once Chhatrasal is gone and to betray him as much as possible in South India. After falling into the politics of the treaty, Maharaja Chhatrasal had to live in South India for about a year in Samvat 1736.
Seeing the growing power of Maharaja Chhatrasal, Aurangzeb made a treaty with Chhatrasal Ji after March 1679 with the mediation of Tahabbar Khan. In the treaty, Aurangzeb assured Chhatrasal of honoring his power in Bundelkhand. However, in return, he asked for military help in South India.
Maharaja Chhatrasal accepted this treaty proposal considering it in the interest of Bundeli land. Interestingly, all those who were anti-Mughal (Aurangzeb) in the south, where the people of the Mughal community only and Aurangzeb had sought help to suppress those Mughals only. Chhatrasal perceived this proposal as favorable and so sent the acceptance of the treaty proposal to the Delhi court through a messenger.
According to the treaty, Maharaja Chhatrasal left with his military for South India in VS 1736 and joined Aurangzeb's army to destroy the local anti-Mughal army. Aurangzeb got huge success due to Chhatrasal's sincere support, but seeing the bravery of Chhatrasal, he got scared and quietly issued royal decrees against the treaty in Bundelkhand. As a result of these decrees, the Mughal army began to subjugate the area conquered by Maharaja Chhatrasal. Maharaja Chhatrasal was unaware of this misdeed and anti-convention action of Aurangzeb. As a result, the Mughal army took control of many important strategic bases controlled by Chhatrasal such as forts of Kotra, Dhamoni, Kalinjar, and others.
When a secret messenger reported Aurangzeb's betrayal and the information about the hideouts taken by the Mughals, Maharaja Chhatrasal also resorted to diplomacy and notified Aurangzeb of his wishes to perform the pilgrimage to Rameshwaram. Aurangzeb trusted Chhatrsal's words and was relieved. But here, Chhatrasal's army had devised a very different plan. His entire army traveled day and night and arrived on the banks of Narmada. Sitting here, he made up a policy to take back the captured strategic bases. During about a year (Samvat 1736) in South India, Maharaja Chhatrasal's many conquered territories (Bundelkhand) had become disputed. This was the reason for war in VS 1737.
After becoming Maharaja, Chhatrasal had 44 cantons and 11,665 villages with an annual income of two crores. Chhatrasal had trained his sons very well in all essential skills. During his later years, as Chhatrasal started leaning more towards spirituality and religion, he divided his kingdom into three parts for his three sons – Hirde Shah, Jagatraj, and Chhatrapati Shivaji's grandson Bajirao Peshwa who he had adopted: Hirde Shah was given the regions of Panna, Mau, Gadhakota, Kalinjar, Shahgarh. Jagatraj was given Jaitpur, Ajaygarh, Charkhari, Sarila, Bijawar, Banda, Bhuragarh. And, Bajirao was given the regions of Kalji, Jalaun, Gursarai, Jhansi, Sironj, Hat, Guna, Sagar. The inclusion of Bajirao as a family member also was aimed to unite the whole of North and South India. Hridayshah and Jagatraj were given half of the remaining kingdom. (Ref: YP-196, History of Orchha, page 195). Maharaja Chhatrasal wrote a letter on this matter just four days before his final disappearance.
Maharaja Chhatrasal had placed some conditions between Bajirao Peshwa and the two sons: –
1. Both brothers (Hridayshah and Jagatraj) will go with Bajirao to fight wars at all places except the region beyond Chambal and Yamuna rivers. Any conquered (looted) property will be divided equally among all three.
2. If Bajirao is busy in any war in the South, then both the brothers Hridayshah and Jagatraj will protect their territory of Bundelkhand for two months.
3. Bajirao will give equal respect to both brothers.
Maharaja Chhatrasal wrote separate emergency guidelines on Posh Vadi 14 VS 1788 for Hirde Shah which also discusses a matter on state distribution. The division of the three sons of this state can also be seen as Eastern, Central, and Western Bundelkhand.
It is an expedient aspect to make a thorough appraisal of the martial art of Maharaja Chhatrasal, who became synonymous with war. How did he succeed in giving a crushing defeat to hundreds of experienced Mughal warlords, even as they were quickly adopting policies like "Sama-Daam-Dand-Bheda", i.e., pacifying by negotiations, paying money, punishment, and causing division). Chhatrasal had faced them alone from a young age. How did he keep moving forward on the horizon of success throughout his life? The death of his parents had made him an orphan in his childhood. At that time when the Kshatriya Rajputs from all over the country couldn't even reach the height of success, how did Chhatarsal cross many steps of his target position? How, at the age of thirty-four, he gave a severe blow to the Mughal empire by becoming the Maharaja of the Bundelkhand region? Undoubtedly, he had many unique qualities which were hard to find in other Kshatriya mighty heroes.
The stories of bravery of Indian heroes have been pervasive all over the world. The valor of these heroes is captivating even to the enemy soldiers. These Indian heroes go to the battlefield with a victorious goal and remain firm like an iron pillar and consider it better to die than to be defeated. This attitude of the Indian army has brought both the loss of life and money in comparison to the opposing armies. These mighty heroes have considered it a stigma if they show their back from the war. As a result, sometimes the entire small army has been destroyed without achieving the goal. Kshatriya heroes are coming to die on pride. But this practice has brought many ill effects.
1. Adopting Guerrilla Policy
The strategy of Maharaja Chhatrasal had reversed this sequence of history. He never considered the death of the Kshatriyas (heroes) without achieving the goal, but he found it preferable to dodge the enemy from the battlefield. Due to this quality, he had a minimum loss of money and people. He considered it better to attack the inattentive enemy again without wasting time. Due to this quality, the Chhatrasali soldiers used to fight by making a specific strategy and run away as soon as the strategy failed, then they used to crush the opposing army by adopting a guerrilla policy. For this reason, the martial arts of Maharaja Chhatrasal were spreading all around. famous poet Bhushan has spoken rightly about this. This martial art of Chhatrasal can be called the golden page of Indian military history.
Maharaja Chhatrasal's army had complete knowledge of the geographical conditions of Bundelkhand. They have an understanding of the ancient martial arts in Bundelkhand and they successfully used it on the battlefield. They had a good understanding of the role of weapons on the battlefield and their importance. They had hands-on knowledge in the use of modern canons, guns, firearms, headbands, etc. and so were completely free from an inferiority complex in the sight of weapons.
Maharaja Chhatrasal's strategy was full of intelligence. He used to increase the morale of the soldiers in defeating the enemies on the battlefield by staying ahead of the soldiers. He did not send the entire army together on the battlefield without proper knowledge. Secure army units were able to win the losing battle, otherwise, he was on alert.
Staying at a distance, he kept an eye on the battlefield. He was mature in making strategies by misleading the enemy army. He had perfect knowledge in assessing military activity from a distance. For this reason, Maharaja Chhatrasal had shattered their victorious dreams by horrifyingly killing Afrasiab Khan Rumi and Shah Kulin. This is a fact – if Chhatrasal had not made a strategy with intelligence, he would never have been successful in these fierce battles.
According to these strategies, he would first allow the enemy army to penetrate deep inside and then annihilate them by creating a labyrinth (Chakravyuh) war. But on the arrival of the huge army, he would change the strategy by the overwhelmingly powerful attack at the very entry point of the battle zone and defeat the enemy. The misfortune of Fidai Khan's army is a reflection of this policy of Chhatrasal's army. Chhatrasal would accurately access the enemy's strategy well in advance and then confusing and trampling the enemy army can only be the work of a skilled strategist. A person who can do these four actions – See, Feel, Think and Do – in a single moment, simultaneously, and at the same place, that person qualifies to be called a born army commander. All these qualities were present in Maharaja Chhatrasal.
The Mughal army was very large, full of brave warriors and warlords, many from Kabul, Iran, and Iraq. It was full of Iranian horses, which were considered to be the fastest runners on the battlefield and the natural attackers on the enemy's army. Aurangzeb was particularly proud of the Mughal Generals for their mastery of strategy. Nevertheless, like the seventh gate of the labyrinth, the Mughal army could not destroy this art. As a result, a lot of land in and around Bundelkhand was snatched away from the hands of Aurangzeb. At the time of his death, the Mughal power had shrunk to a small area. After all, it was Chhatrasal's prudent strategy and full self-respecting military organization that had made him nervous. The poor person had to spend the last 27 years of his life in exile from Delhi. The main reason for the defeat of Aurangzeb was that – the struggle started by Maharaja Chhatrasal against Aurangzeb became the self-respect of the Bundeli people due to being just, and this struggle against Aurangzeb's atrocities was widely supported by the public. Chhatrasal emerged as the leader of the Bundeli public. Justice resides in the soul of the Bundelites. Due to his prevailing against justice, Aurangzeb did not get support from the Bundelites. Whereas, Chhatrasal, being persistently standing up as a symbol of justice, had settled in the soul of every Bundelite as the god of justice. He became well known as "Delhi's Mughal rule Demolisher". The then Bhushan poet has written a lot about it beautifully.
5. Parent's Testament (Will)
According to historians, his parent's testament (Will) was the source of inspiration for Chhatrasal in making him the god of justice. His parent's testament included the advice for building the character of a qualified national leader, secret teachings on mass organization, and military successes. His father Champatarai had given it to his trusted companion Bhanubhatt of Dailwara, which later became an instrument in making of a great historical personality Maharaja Chhatrasal. Fearless Chhatrasal used to take up the war with a hundred enemies single-handedly, even in the midst of the biggest calamities he would keep his intellect steady in forgiveness, and still attain victories and make him invincible.
6. Self-Reliant and Innovative Chhatrasal
Maharaj Chhatrasal's army had a proper stock of necessary weapons for use by his skilled army men. He had learned about war strategies and warfare while with the Mughal army and also from Chhatrapati Shivaji. Chhatrasal wrote a memoir to his son Jagatraj detailing the kind of knowledge he had learned from Shivaji. This included lessons on using bow and arrow, swordsmanship, hilt return, working with guns and cannons, and some firearms. Maharaja Chhatrasal was very fond of using a gun and was a specialist on this subject. There was a special vehicle using sarakfands (headbands) which was used in the valleys and wild routes to trample the formidable enemy force. Many Mughal warlords themselves got entangled in the headscarf in the illusion of giving illusion. Maharaja Chhatrasal was interested in making discoveries in relation to weapons of different kinds. Srinagar, a village situated between Mahoba and Khajuraho, was a weaponry manufacturer. Different types of weapons were cast here, including the manufacturing of big guns, aiming arrows, and the circular launching machines with firepower up to ten miles range. They were also used to convey messages. Enemy camps were attacked from far away at night with the help of this. The strategy to confuse the enemy groups was easily used by it.
Due to the manufacture of firearms in Bundelkhand itself, Maharaja Chhatrasal was self-sufficient in terms of military material. As a result, Bundeli's money did not have to be sent to other states for this cause, there was self-reliance and happiness, and prosperity among the people. In the battle of Gadhakota, the Bundeli army had shown amazing fighting skills in thwarting the Mughal army's strategy on the strength of firearms. The geographical location of Bundelkhand was suitable for the use of firearms, so Maharaja Chhatrasal used them extensively in various forms. It is mentioned in the historical texts of the time. The description of the military successes of Chhatrasal is found in the then texts like Chhatraprakash, Vitak, etc. In fact, different weapons are the product of the geographical conditions there, which took various scientific forms.
7. Extraordinary Speed of Attack
Another great feature of the tactics of Maharaja Chhatrasal, due to which the Mughal rulers were also very surprised, was the speed of their attacks. So it was in no one's control to chase and catch them. In a single day, he would attack (dhawa) up to sixty kos (1.8 miles or 3 km). He would attack the enemies with lightning speed and disappear with the same speed once the mission is completed. Due to his lightning speed of attacking, the chiefs of Allahabad, Malwa, and Agra were under constant fear of attack by Maharaja Chhatrasal from the beginning of the rebellion period. This quality was a major helper in establishing good governance and governance completely. The Mughal emperor Aurangzeb was very much terrified by the impulsive attacks of Chhatrasal that he had to send several treaties demanding the security of the Delhi court. Mughal soldiers were so frightened by Chhatrasal's speedy attacks that they had determined to withdraw from the war.
The living and social condition of the Bundelites improved significantly and the feelings of Mughal slavery and havoc of about 43 years (from VS 1685 until VS1728 rebellion time) was destroyed from their conscience. Bundelkhand was re-established with Chhatrasal's discretion and muscle power. The sun of Bundeli culture had risen again. Earlier Bundeli-government system was made more liberal and people-friendly. Bundelites felt the return of the golden time during the rule of Maharaja Vir Singh Ju Dev (VS. 1663-1684, Jahangir time) who was a beloved friend of Chhatrasal's father Champatrai.
All prevalent three (lower, middle, upper) classes of the Indian society, including Hindus and Muslims, enjoyed equal rights from the state. Discriminatory feelings were minimal and every class had equal representation in the government. There was no domination of a particular class in the army. Military discipline was non-discriminatory. Even the people of the Chamar caste, otherwise classified as lower caste, felt a glimpse of great self-respect. All were prosperous and lived in harmony with each other. The upper class lived decently. Rich and talented people from every class contributed and were respected. The feudal class could not exploit people of any class. Farmers, craftsmen, and laborers lived happily. There were no atrocities on them by the landlords and government employees. The collection of revenue was done respectfully without any harsh treatment to anyone.
Maharaja Chhatrasal had systematically established the central and canton administration throughout the Bundelkhand.
Central Government: Maharaja was regarded to have supreme power in matters of justice. Several ministerial Diwans were appointed to oversee the cantons and fort-holders throughout the State. Canton Panchayats of the entire Bundelkhand were sending their cases to a central Panchayat at Mau Mahewa. Members of Panchayats came from every class and hence a balanced judicial process existed. The government had also appointed poets for villages, towns, and cities to convey to Maharaja Chhatrasal the image of the state government in the public mind.
The supreme control in the military department was exercised by the position of the Bakshi (who made disbursement of salary to the army people). The great poet Hansraj Bakshi's paternal grandfather was appointed to the post of Bakshi. When requested by Maharaja, this position would perform the counting of army members in each canton and district.
During natural calamity and other circumstances, the Central Government used a liberal approach to collect revenue from the farmers. The central authority also oversaw trade rules impacting human wellbeing in general. Bundelites never had to run out of their homeland in search of livelihood.
Bundelkhand was divided into forty-four cantons, called 'Parganas' according to the poet Krishna. Qualified and strong persons were appointed and given special status in these cantons. Each canton was valued based on its income. The appointments of landlords (zamindars) within the cantons were with the consent of the Maharaja. The canton administration was responsible for the peace and security in their jurisdiction, including inspections of the scale and weight to prevent dishonesty or theft in the market and any other matter of inconvenience to the general public caused by the local employees and the business class. Keeping an eye on external encroachment and anarchy was the special responsibility of each canton-government.
Princely states (riyasat) formed by mixing the villages were run by the individual's titled Zamindars or Rao depending on the size of their princely state. The Zamindar or Rao had no control over the local courts or Nyaya Panchayats in every village. These courts were represented by people from every class. Thus, the public did not have to bear the wrath of the landlords in any way. During British rule, this judicial system had come under the zamindars. As a result, examples of the inhuman misdeeds of the landlords are still heard by the old people.
During this period, the costumes of the feudal lords of every class were valuable. The maintenance and dressing of costumes and ornaments were special, especially in the upper classes. The costumes of Hindu and Muslim wealthy people were almost the same. The costumes of people absorbed in scholarly and social work were very elegant and attractive. The Maharaja did not take gifts etc. from the public, as a result, there was no place for sycophancy, etc. The Maharaja used to distribute a lot of wealth in charity to the public at special festivals. People living in the mountains and caves also used to see the Maharaja at festivals and get rewards. The Maharaja's own life was also simple. He was known as Videhraj Janak. Women were laden with jewelry, wearing beautiful clothes. Even in the dense forests, they all used to work fearlessly. Men also used to wear jewelry. The veil (pardah) system to cover a woman's face with a cloth when passing by or communicating was especially prevalent among the upper class and feudal communities. The moral character was the true wealth of the people. Men mainly wore kurta-dhoti and turban.
During this period, the practice of food and drink remained prevalent for centuries. Due to the geographical diversity of Bundelkhand, food and entertainment are also diverse at different places. Sattviki food is the mainstay here. The custom of eating catechu, betel nut, and paan is the heritage of the ancient culture here. Garland around the neck and tilak on the head has also been in common practice. The epitome of bravery is a unique gift of this land.
There are other means of entertainment. Reservoirs, waterfalls, lakes, and mountain ranges are full of natural shade. Hunting, animal wars, bird fights, wrestling, the charisma of nuts, etc. have been the means of entertainment. Many sports are popular here. The attachment of the public towards entertainment can be said to be an instinct here.
In Bundelkhand, there has been a tradition of celebrating social festivals, marriage festivals, and fairs by Hindu and Muslim people with great pomp. Restrictions were imposed on Hindu festivals by the Mughal rulers. Therefore, on these festivals, the Hindu people celebrated with great pomp after the establishment of a Godly state under Maharaja Chhatrasal. He had encouraged the public to celebrate with boldness and simplicity. There were special events of fairs. Festivals like Vasantotsav, Holi, Akshaya Tritiya, Rakshabandhan, Dussehra, and Deepawali have been the major festivals here.
During the reign of Chhatrasal Maharaja, there was an economic revolution in Bundelkhand. They provided water for crops to the farmers through reservoirs, lakes, and canals, etc. Special big two step-wells were also made, as a result of which the entire Bundelkhand was rich with money and food grains. He built 9 lakes in Bundelkhand and also inspired his sons to build and maintain the infrastructure throughout the region. The treasure discovered in the Charkhari region was used by Jagatraj for public works as inspired by Maharaja Chhatrasal. The economic condition of the subjects was the best and therefore, this period is called the Golden Age for Bundelkhand. Every family had a son ready to fight for the motherland. The economic prosperity of this period is known from the fact that Bundelkhand was completely self-sufficient. Even military equipment was being manufactured in Bundelkhand itself.
Maharaja Chhatrasal had given priority to the construction of the building as per the requirement. Special attention was paid to the restoration of old buildings. He did not allow the labor of the people to be wasted in vain. So he rarely built new forts or big buildings. The whole public was very much impressed by this approach. There prevail many proverbs giving authenticity to this view in Bundelkhand. Chhatrasal believed that it was better to build a prosperous life for the public than the construction of luxurious buildings. In fact, the new major construction decreased during the time of Maharaja Chhatrasal. Yet the construction of the Gummatji temple in Parna is a unique piece of architecture. The buildings constructed in Chhatarpur, Mau Sahaniyan, Mau Mukarwa, Mau Maheva, etc. are emphasizing the architecture of the Chhatrasal period.
Chhatrasal used to associate language with his identity, so his rule used to conduct official business in the Devanagari script of Bundeli, the local dialect of the Hindi language. Just as Shivaji used the Marathi language in his state business, Chhatrasal used Bundeli for maximum effectiveness. All letters from Mughal rulers written in Persian were presented to Chhatrasal in the Bundeli language. All credible documents, letters written on copper sheets, including political correspondence of that time – were in the Bundeli dialect.
From the study of his writing style, it appears Chhatrasal was a good Bundeli prose writer. His sentences were short and full of deep meaning. Like a sailor's arrow, we find in his prose that his short sentences were conveying very deep meanings effectively.
In a letter to Sawai Jai Singh, he wrote regarding one of his sons Khan Jahan: "Try and keep young Khan Jahan out of Mughal's internal quarrels, or, if pressed hard, he will show the power of his fighting talent."  
In the Book of Historical Evidence and Chhatrasal, Dr. Mahendra Pratap Singh has included a letter written by Chhatrasal to his son Jagat Raj. It shows that Chhatrasal's government used to run in a regional public language only.
The presence of the vast poet clan symbolizes a lot of awareness for the promotion of education during Maharaja Chhatrasal's period for which the Bundelites gave Chhatrasal the title of Jagadguru.
Mahamati Prannathji revealed the innermost essence of the integral Tartam wisdom through scriptures such as Khilwat, Parikrama, Sagar, Singar, Sindhi, Marfat Sagar, and Qayamatnama from VS 1740 to VS 1748. Inspired and empowered by Mahamati Prannathji, Swami Laldas Ji also composed books like Beetak, Bada Majja, and Chhoti Vritta scriptures. Navrang Swami, another leading Sundarsath companion of Mahamati Prannath also composed twenty-four spiritual texts highlighting the essence of all world faiths.
Brajbhushan Swami, Sneha Sakhi, Bakshi Hansraj, Lal Kavi (Chhatraprakash, Rajvinod), Rashtra Kavi Bhushan, and other also composed vast poetry on diverse topics. There were eighty-two poets in the court of Maharaja Chhatrasal, so the literature composed by him must have undoubtedly been in abundance. Maharaja Chhatrasal's son Hridayshah also composed Hriday Prakash Granth, a unique treasure of the spiritual world. Maharaja himself was the poet king. He also composed profuse poetry which has been edited by Viyogi Hari in the form of Chhatrasal Granthavali in 1983, and the latter works have been edited by Dharmabhushan Kunjbihari Singh in the form of Chhatrasal Kavyanjali in VS 2055, published by Smt. Umadevi Kushvanshi.
Painting has been of special importance during the period of Maharaja Chhatrasal. It is said that even his spiritual guide Mahamati Prannath knew good painting. Oil paintings made by him are available even today, in which colors containing gold and silver have been used. The mural paintings on the walls in Chhatrasali Chabutra located in Chhatarpur have been displaying the unique painting. The work of painting was at its peak in the whole of Bundelkhand during this period. Historians tell that Aurangzeb was not interested in painting, as a result, the Mughal painters had left the court and went to other states.
This period has also been the best in the field of music. Hundreds of Brahm-Munis who came with Mahamati Shri Prannath were melodious with beautiful music. Not only this, but the royal court of Maharaja Chhatrasal was also full of musicians. Music resides in the soul of Bundelkhand, so the entire public was engrossed in the music. During this period the Delhi court had become deserted as Aurangzeb had spent 27 consecutive years (AD 1738 to AD 1764) living a life of exile. As a result, the music world had also departed from the Mughal court, which had found good shelter in the court of Maharaja Chhatrasal. There was a lot of music flourishing here during this period.
Thus, this period was the golden age of Bundelkhand. The subjects were prosperous with money and food. They were enjoying the pleasures of a godly state. The condition of the subjects was development-oriented in social, justice, economic, entertainment, education, literature, painting and music, and arts. The people were getting the experience of development, self-respect, living, food and drink, fun, and entertainment.
There was immense reverence and dedication in the public for power and motherland. The three-tier government system for running state affairs was commendable. People felt full participation and saw their roles. They realized human rights were being valued. Chhatrasal's poetry speaks a lot about all this.
A unique humanitarian Hindu King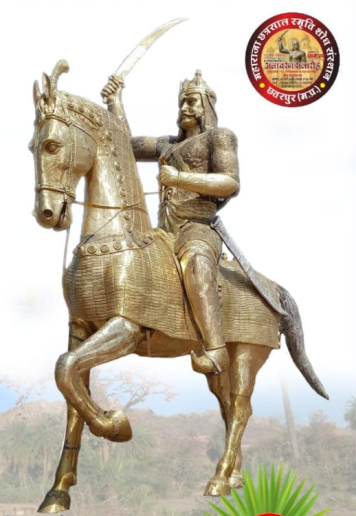 Chhatrasal is the only known humanitarian Hindu Maharaja of medieval India who demonstrated love for the entire humanity through his actions. The entire human race was a single race for him. Despite lifelong fighting against a tyrannical Mughal rule in Delhi, there was never a feeling of alienation between Hindus and Muslims under the rule of Maharaja Chhatrasal. Clearly, his fight was with religious fanaticism. Despite being a proud Hindu background, his soldiers were from diverse castes, including Muslims. His other unique principle was never to start any fight with a motive to increase his state's borders.
Maharaja Chhatrasal's fight was never against any specific community, including the Mughals, who killed his parents. His fight was unique in that it was solely against inhuman tendencies, including religious fanaticism, but never against any community or religion, including Islam. In his eyes, people with humanitarian thinking were 'divine' and those with inhuman ideas were 'devil' or the Asuras.
Chhatrasal can be tested on the fact that he never persecuted the Muslim community. Hindus, Muslims, and others lived equally in his kingdom. Along with Gita and Bhagvat, Koran was also respected and read in his kingdom. To him, all human beings were the children of the same God and so equal. In his eyes, the disharmony of the caste-line was a symbol of human being's demonic qualities.
He never tortured any Muslim with feelings of revenge even in times when his adversary Aurangzeb was treating Hindus inhumanly by forcible conversions and imposing Jizya, the tax upon the non-Muslims. His fierce fight against Aurangzeb was like Krishna suppressing the Asuras who attacked Brij from time to time. Krishna didn't leave Brij to attack the Asuras, neither didn't Chhatrasal. He simply defended his state from within.
Another interesting point is that Maharaja Chhatrasal's aim was never to expand his territory. While he responded swiftly to unjust activities of his neighboring princely states of Orchha, Datia, Chanderi, he did not invade their territory nor did he snatched away from their estate despite all his capabilities. For this very reason, even the people of those princely states considered him their Maharaja.
There are many examples of Chhatrasal's noble character:
1. Whenever an enemy had asked for forgiveness, he had released them unhurt. Sending a humanitarian message for Aurangzeb, once he had even promised him never to attack Delhi!
2. Despite being his crown enemy, in one instant, Chhatrasal even forgave Aurangzeb upon his daughter Badrunisha's appeal to spare his life.
3. Around 1672 AD, at age 23, Chhatrasal adopted without hesitation, a 3-year-old Khanjahan, the son of a Mughal Banki Khan* who was Aurangzeb's Mansabdaar, and who had joined Chhatrasal's army by letting go his earnings from Aurangzeb. This Baki Khan had joined Chhatrasal's army after Fauje Miya joined. (*According to historian Kunj Bihari Sinh, there are 3 individuals with the name Baqi Khan. He is not the one, from whose attack had Champatrai escaped in 1640 AD. But later, that year, he killed Sarvahan, Chhatrasal's brother).  
4. He returned the injured Moghul soldiers and army leaders to their Mughal camps.
5. In Chhatrasal's army, two Muslims – Baaki Khan and Fauje Miya – were mainly responsible for managing the supply of gunpowder and cannons, the main military material. Such was their faith in Chhatrasal's character and capabilities that they never had a thought of siding against his mission. They served Chhatrasal for their entire life, regarding him as their friend.
6. After Sher Afghan's defeat at the hands of Chhatrasal, in 1683 AD, his remaining army men became Chhatarsal's subordinates. Upon learning about Chhatrasal's respect for humanity, all those Muslims swore the Quran and served Chhatrasal's mission for life.
7. One Munim Khan, a distinguished personality in Delhi Durbar knew Chhatrasal's divinity. And therefore, he had such an unshakable belief that Chhatrasal will demolish Mughal rule, but he will never blow the Delhi court with cannonballs. He used to say, "Maharaja Chhatrasal does not have religious bigotry and he considers Hindus and Muslims as pearls of the same rosary, based on his True Master Mahamati Prannathji's teachings: 'Soi Khuda Soi Brahm' and 'Prem Brahman dau eak hai' which means Khuda, Brahman and Love are all one." There was no difference between his words and his actions.
8. Upon receiving an invitation in the marriage of Muhammad Shah Badshah's niece, Maharaja Chhatrasal sent his two princes to Delhi and presented them with the gift of rupees one hundred thousand. Upon seeing Chhatrasal's love, Muhammad Shah had said, "if Maharaj would have come here by himself, he would have given one or two of his estates (jagirs) in charity."
9. If Chhatrasal had adopted the policy of "tit for tat" (शठे शाठ्यं समाचरेत), then he would have reacted to Aurangzeb's anti-Hindu policy. Instead, he chose to remain focused on strengthening the Bundeli spirit from within.
Thus, any portrayal of Maharaja Chhatrasal as only anti-Muslim or as only pro-Hindu is mistaken. There is no discrimination against Hindus or Muslims in the religion of Maharaja Chhatrasal. He believed in Shri Prannathji's teachings:
Meaning: "Whether it is Koran or Puranas (including the Vedas), both are the letters of evidence for matters related to spiritual awakening. We know their inner essence in light of integral Tartam wisdom. And now, Supreme Absolute Beloved Prannath is revealing those secrets by making my heart His abode."