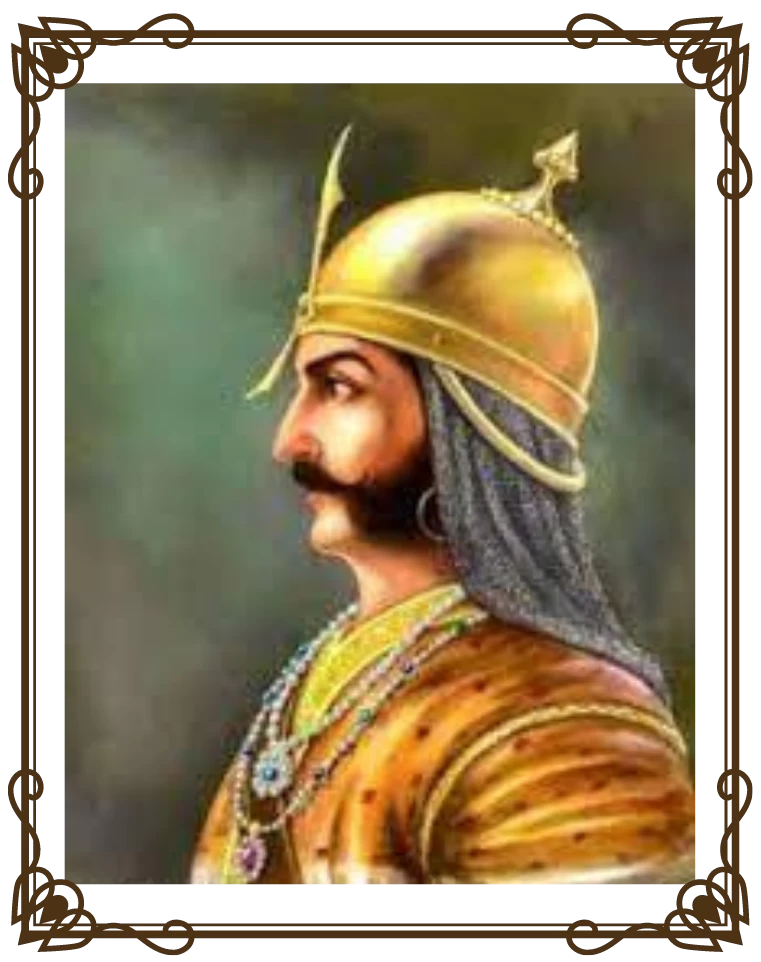 Maharaja Chhatrasal Bundela
Maharaja Chhatrasal (May 4th, 1649-Dec. 20th, 1731 AD) was an early modern Indian warrior king from the Bundela Rajput clan who fought against the Mughal Empire and established his own kingdom in Bundelkhand. Out of his 82 years of life, he kept fighting against the Mughal emperor Aurangzeb from the age of 22 until his last breath at the age of 82 years. He is from among the many Indian heroic leaders who had opposed injustice, atrocities, and immorality from time to time and inspired people to fight for justice
Little Chhatrasal lost his parents Champatrai and Saranda at age 12
1665
Revolt against Mughal
Joined The Mughal Army led by Mirza Raja Jai ​​Singh.
1667
Meeting with Maharaj Shivaji
Chhatrasal learned a lot in terms of advice, moral and military support
1671
Development Period I
Chhatrasal started building his army from diverse castes and classes
1682
Development Period II
Chhatrasal's coronation as 'Maharaja' by Prannathji
Shri Prannath Global Consciousness Mission​
SPGCM (a.k.a. Shri Prannath Veishvik Chetna Abhiyaan) aims mainly to share with humanity Mahamati Prannath's integral Tartam Knowledge by offering spiritual awakening programs, publishing literature and by undertaking various multimedia projects relevant in the present time. We believe that "Brahmn Gyaan Amrut Hei aur Prem hi Jivan hai," which means "Integral Tartam Wisdom is the real elixir and living in love is living life." Therefore, contributing towards raising people's awareness of spiritual wisdom is the greatest service to humanity. 
Shri Prannath Global Consciousness Mission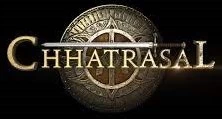 Bundelkhand - The land of warriors
The Bundela dynasty emerged from the 11th century Gahirvanshi Kshatriya Rajput king Pancham, who laid the foundation of the Bundela kingdom. Being ruled by the Bundela kings, this land came to be called by the name 'Bundelkhand'. Maharaja Chhatrasal was born in the tradition of these Bundeli kings and his reign was called "the Golden Age" in Bundelkhand. 
Bundelkhand is a region of north-central India in the 16th-17th century, now mostly part of the state of Madhya Pradesh and the remaining part is in the state of Uttar Pradesh. In the map of India, Bundelkhand includes cities such as Jhansi, Panna, Nagaud, Chattarpur, Damoh, Sagar, Datia, Chanderi, Lalitpur, Banda, Hamirpur, Jalaun, Mahoba, Chitrakoot, Tikamgarh, Rewa, Jabalpur, Vidisha, Gwalior, Bhind and parts of Etawah.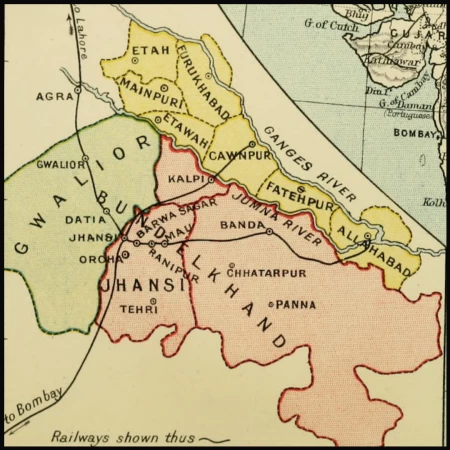 At the age of twelve and a half years, in 1661 AD, little Chhatrasal lost his parents Champatrai and Saranda. Due to his father's rebellion against Aurangzeb, the Rajas and Rao of Datia, Orchha, and Chanderi were strong enemies of Chhatrasal. Dhandhera clan people of Sahra were Chhatrasal's relatives and also bound by ancestral debt. Yet, all of them were the cause for Chhatrasal's sufferings. Sister Maankunvari (husband Gyaansinh) closed her doors for Chhatrasal due to fear of Aurangzeb's royal court. When orphan Chhatrasal approached his father's trusted family priest Bhanu Pandit, even he reprimanded him and denied any support or shelter. In such a critical time of crisis, some such people entered his life, who had infused nectar drops in his teenage life and supported him on time. These people had played an active role in the establishment of Swarajya by giving support and affection to Chhatrasal and paved the way for the history of Bundelkhand's independence. 
Early Developmental Period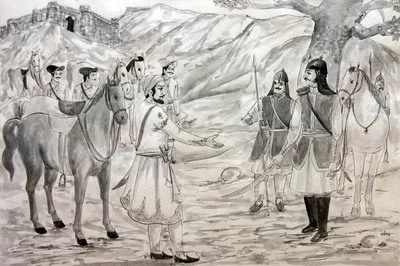 The Nine Years period of Early Struggle
The flame of rebellion started burning within Chhatrasal's heart which was already saddened by his parents' death. He was desperate to respond to his parent's killers as well as the Mughal ruler. He was very disturbed by the fact that his brothers and sisters were not willing to fight for justice and a great cause. While everyone was stuck in the fearsome past, the flame burning within the sixteen years old Chhatrasal's heart was growing bigger and bigger. Chhatrasal decided to learn first-hand the customs, strategies, strengths and weaknesses of the Mughal army.  So, in 1665AD-1666 A.D., brave Chhatrasal decided to join the Mughal Army led by Mirza Raja Jai ​​Singh.  He fought for his obvious enemy and even brought them victory in the battle of Bijapur. Seeing Chhatrasal's valor, Jai Singh appointed him to lead.  Chhatrasal helped Jai Singh and Bahadur Khan to conquer the Devgarh Fort, got seriously injured and was not recognized for his role.  This opened up as an opportunity to find the great company of Chhatrapati Shivaji.  Chhatrasal Meets Chhatrapati Shivaji who boosted his spirit.
The Implementation Phase started with putting together a small army of Five Riders and Twenty-five Soldiers, which represented the whole society – from diverse castes and classes. Many Bundela martyrs protected Chhatrasal's life at Saheedi Chaupda war which took place when Aurangzeb had dispatched Tahavvar Khan to suppress Chhatrasal, which he failed to do. Upon hearing of havoc wrecked by Chhatrasal's soldiers on the Mughal army, many Mughal-loving tyrants started fighting directly with him, but at the same time, Chhatrasal started attracting more support of youth and elders spontaneously.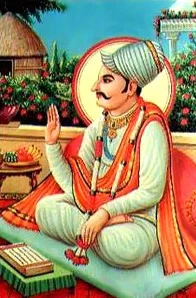 During this Establishment Phase, Chhatrasal met Mahamati Prannath and was graced and guided by him. He was coroneted publically as 'Maharaja' by Prannathji. Even as Chhatrasal's power was growing during this period, Aurangzeb kept sending many army Generals to Bundelkhand to destroy Chhatrasal's progress. But Chhatrasal, with the sword blessed by Prannathji, won all Wars With Mughal Generals.
Maharaja Chhatrasal fought and conquered two hundred fifty-two fierce battles to establish a free Bundelkhand. He had to suppress so many heretics in wars – small and big – throughout his life. Then he organized a grand victory tour (Digvijay Yatra) of the Bundelkhand with his spiritual guide Mahamati Prannath seated on an elephant. Along with some glimpses of the fierce battles and the story of Digvijay Yatra gives an idea of the scope of his life-long fight, challenges he faced, and the extent of divine support he had throughout his journey for truth, justice, and freedom. This proverb is completely true for Maharaja Chhatrasal: "Jako rakhe saaiyaan maar sakye na koi" or "In awareness of divine presence, none can hurt you". His life teaches us that the work of the sword is in the war, not always in the sheath and that, for a true warrior, the battlefield is simply a playground. Today, his name illuminates the whole world with inspirations of all kinds, and hence, in the true sense, Chhatrasal is having great historical importance or momentous significance. He is "the Epoch-Making", the "Yugpravartak."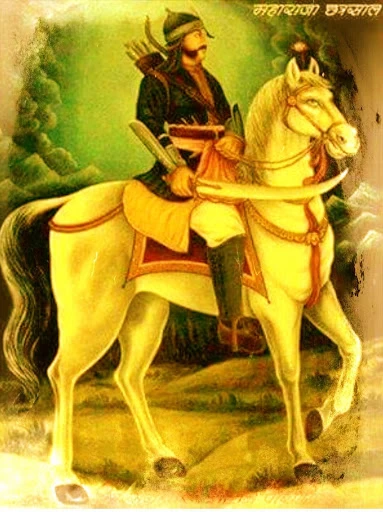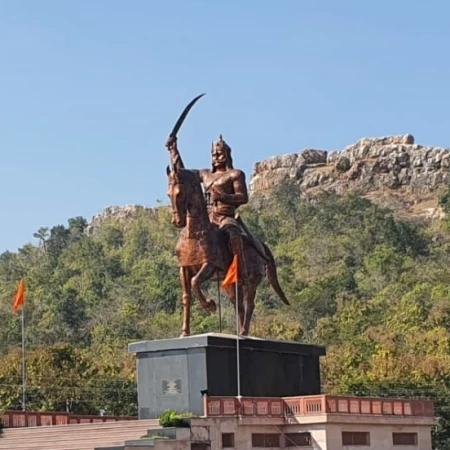 As great mighty as Maharaja Chhatrasal was, he was equally great in running the state. He never allowed the wasteful use of his people's energy. The Mughal rulers and the kings of Orchha exploited their people's energy, particularly manual labor power, to build big buildings, forts, and palaces. In numerous instances, laborers disabled or dying accidentally during construction projects were simply sealed in the walls.
Maharaja Chhatrasal never forced his people to work as slaves or kept them hungry. He always believed in the happiness, peace, and prosperity of his people supported them by nurturing them. Here is a line from his poem: छत्रसाल जन पालिवो, अरिहिं घालिबो दोय । नहिं बिसारियो धारियों, धरन धरा कोठ होय॥ (छत्रसाल काव्याञ्जलि, पृ.119) Chhatrasal Jan Palivo, Arihin Ghalibo Doy…Thus, in Chhatrasal's kingdom, people used to feel the signs of returning the Sat-Yuga. ​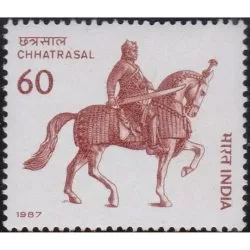 India Post has issued a commemorative 60 Paise postage stamp to celebrate the life and legends of this great Bundela ruler, Maharajah Bundeli Kesari Chhatrasal on October 2, 1987. It was distributed to 10,00,000 people.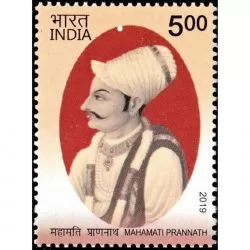 A commemorative 5 Rupee Postage Stamp was issued by India on November 29, 2019 on Mahamati Shri Prannathji, the proponent of Nijanand (Parnami) Faith. It was distributed to 4,00,320 people.
Postage stamp which begun as a piece of paper in token of receipt of postage has assumed additional functions such as commemorating, celebrating and promoting national heritage and culture.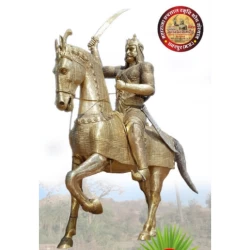 Maharaja
Chhatrasal Statue
Installation of Maharaja Chhatrasal's 51 feet tall equestrian bronze statue at Maharaja Chhatrasal stadium in Mau Sahania showing his Valor.  The statue is made from metals donated by the Bundelkhand general public.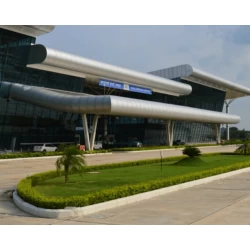 Initiative to Rename
Khajuraho Airport
Efforts are also in progress to rename Khajuraho Airport in the name of Maharaja Chhatrasal.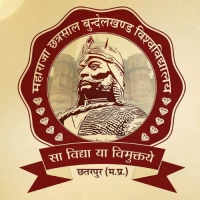 Maharaja Chhatrasal Bundelkhand University​
Establishment of Maharaja Chhatrasal Bundelkhand University in Chhatrapur, M.P., in 2015. It serves as an affiliating university for colleges of six districts: Chhatarpur, Damoh, Panna, Sagar, Tikamgarh and Niwari.