Chhatrasal is one of the major initiatives of SPGCM (a.k.a. Shri Prannath Veishvik Chetna Abhiyaan) to share all aspects of Maharaja Chhatrasal's life, his legacy, contributions, and implications of his total character. The main aim is to aware our community of the life of the unsung warrior King Chhatrasal of Bundelkhand.  This also includes major personalities and characters who played important role in his life and information related to the great "Chhatrasal" Web Show.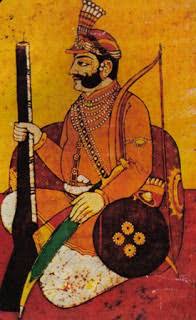 Shri Prannath Global Consciousness Mission
SPGCM (a.k.a. Shri Prannath Veishvik Chetna Abhiyaan) aims mainly to share with the humanity Mahamati Prannath's integral Tartam Knowledge by offering spiritual awakening programs, publishing literature and by undertaking various multi-media projects relevant in the present time. We believe that "Brahmn Gyaan Amrut Hei aur Prem hi Jivan hai," which means "Integral Tartam Wisdom is the real elixir and living in love is living life." Therefore, contributing towards raising people's awareness of spiritual wisdom is the greatest service to humanity.  Only through self-empowerment can a person quickly and easily experience the fruits of Nijanand, the pure blissful love state in here and now, as well as after this life.
With its membership growing abroad, a new approach was deemed necessary to serve the needs of the modern time.  So, in 2016AD, a banner of "Shri Prannath Global Consciousness Mission" was adopted with broader vision to serve the common global population, specifically by focusing on multi-media projects. 
Most importantly, the organization is actively working on several new high-impact initiatives to cater the needs of our children, adolescents and adults as well. And we look forward for everyone's kind support in any way possible – physically, mentally or financially.  Your active participation will only help us realize Beloved Prannath's dream of "Sukh Shital Karun Sansaar" which means "Peace and Joy For All."
be a part of our Community.
Your active participation will only help us realize Beloved Prannath's dream of "Sukh Shital Karun Sansaar" which means "Peace and Joy For All."